Review by
Larry S. Sterett | Contributing Editor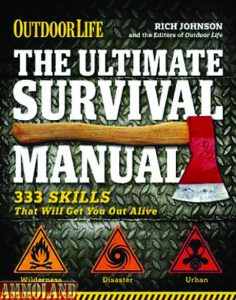 THE ULTIMATE SURVIVAL MANUAL, by Rich Johnson and the Editors of Outdoor Life. Published by Weldon Owen, Dept. TGM, 415 Jackson Street, San Francisco, CA 94111. Price: $29.00, plus postage. Available at most bookstores or Amazon.
This inch-thick flexi-bound volume features 333 skills (hints) to enable the reader to survive what might be life threatening situations. It does not have page numbers, but lists the skills in numerical order under four major topic headings–Essentials, Wilderness, Disaster, and Urban. It does have an index, plus the usual credits, acknowledgements, etc.
The illustrations are in color and they are abundant, consisting of both photographs and drawings. (There are a few of the cartoon-type features—is Happened to Me—which appeared originally in Outdoor Life magazine.)
The first section—Essentials—covers 22 skills beginning with Assemble an At-Home Survival Kit, and finishing with Defeat Dehydration. Among the other skills covered are Disinfectant Wound, Set a Bone, Treat for Shock, and Treat Frostbite.
The second—Wilderness—covers skills 023 (Avoid Getting Lost) through 135 (Know When Your Raft's Close to Land). It is the largest section in this tome and covers such skills as Know Your Bears, Gobble Up Bugs, Remove a Tick, Seek Water in a Canyon, Rig an Ice-Fishing Trap, Get Out of Broken Ice, Right a Capsized Boat, and Avoid Shark Bites. There may be a few situations author Johnson might have missed, but if so, they are extremely few. (Skill 071–Put your Pee to Work–has been used more times than people might think, and during World war II and Vietnam in particular.)
Disaster—section three—covers skills 136 (Be Ready for Disaster) through 237 (Improvise Tools). It is the second largest section of the four. Among the skills covered are Tree-Proof Your Home, Weather an Earthquake, Deal With Being Snowbound in a Car, Decontaminate Yourself, Eat Right in a Blackout, Harness a Car Battery's Power, and Fend Off Looters. As the song lyrics go—"it's later than you think"—and the Boy Scout's motto—"Be Prepared"—applies. This volume is definitely one any person can benefit from reading.
The final section—Urban—ranges from Sense Your Surroundings to Make A Bow and Some Arrows. (This final skill might seem more suited to wilderness use than urban, but in an emergency, the best defensive weapon is the one you have in your hand and an available homemade bow and arrow is better than a handgun, rifle, or shotgun you may not have.) Featured skills in this final section include Surviving Crashing Into the Water, Pack a Lifesaver in Your Car, Free Yourself from Ropes, Stay Safe on Mass Transit, Survive a Human Stampede, Deal with a Gunshot Wound, and Make a Shank. As the author, Rich Johnson, states: "Learn to view everything as a potential weapon, right down to the toothpick on your dinner table. I'm serious.")
For the general reader—sportsperson or not—this is one of the best books of its type available today. It is even better than some of the military survival manuals, if for no other reason than it covers more subject areas or situations. It is definitely worthy of space on any bookshelf.