Review by
Larry S. Sterett | Contributing Editor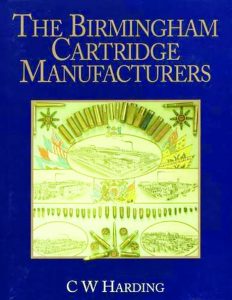 THE BIRMINGHAM CARTRIDGE MANUFACTURERS, by W. HARDING. Published by Quiller Publishing Ltd., Wykey House, Wykey, Shewsbury, SY4 1JA. Distributed by Safari Press, Inc., Dept. TGM, 15621 Chemical Lane, Huntington Beach, CA 92649. Price: $70.00, plus shipping, also available from Amazon.
This 286-page hardbound volume is a gem on British cartridges—metallic and shotshells—in their heyday, and covers such firms as BSA, Westley Richards, Kynoch, W.W. Greener, and The Midland Gun Company. Its features includes nine chapters, plus a bibliography and an excellent and lengthy index. With the exception of Chapter 1, devoted to beginnings of the Birmingham cartridge trade, and Chapter 2, devoted to percussion cap manufacturers of Birmingham, each chapter is further divided into related topics and sub-topics.
For example, Chapter 6—Kynoch & Co., G. Kynoch & Co. Ltd., and Kynoch Ltd.—covers 15 topics, with each having up to six sub-topics. There are even some sub-sub-topics, such as 6.3.4.6,  The residual Birmingham ammunition companies linked to IMI [Imperial Metal Industries} are also discussed. Chapter 8 deals with the lesser cartridge companies on which, in many cases, little is known. Little may be known about the individual firms, but some information is provided on 42 companies, from Messrs. Jas., Archdale Co. to W.W. Greener. (The names of a number of these firms, such as Greener, will be familiar to US shooters, but not as manufacturers of ammunition, metallic or shotshells.)
Illustrations in this volume are abundant, and consist of both black and white and color. Many of the black and white photos are of broadsheets, advertisements of the past, patent specifications, or photos of the various historical sites and/or personnel. (There are also many pages of headstamp drawings of many different cartridges—a real boon to collectors of English-manufactured cartridges.) The color photographs are of cartridges, including shotshells, boxes and/or cartons, cartridge display boards, and other related products.
The "one photo is worth…" adage couldn't be more apt than in a book on cartridges. The photos, in color, from the 1891 Kynoch Lion Works, Witton, Near Birmingham, catalog, show eleven pages of Lion shotshells. Except for the final page there are two shotshells featured per page, with the loaded shell on the left side and a sectioned half on the right, illustrating the hull, primer, powder charge, wad, shot charger, and crimp. (The final three shells are pinfires, rather than centerfires.) The name for each load is listed, and usually the case color and powder type, such as Schultze, EC, SS, etc.
Tables listing many of the cartridges are provided in several of the chapters. The data featured generally consists of the caliber, dates of production, load (if known), and a comment, such as 'In ICI 1937 Military catalogue' for the 7.62mm x 54R Mosin-Nagant cartridge which was produced by Kynoch for the years 1925-1937.
The Bibliography is rather brief, and consists mainly of the name of sources, from Accles & Shelvoke to Wrightson's Triennial Birmingham Directory 1825, for the information in this excellent volume. The Index is more extensive and lists all the cartridges mentioned from the .22 rimfire, through the Yellow Seal shotgun cartridge, and on to ZAR.
Birmingham is/was not the only location manufacturing cartridges in the UK. However, it is probably the location of some of the best known manufacturers of such products. Not only are the conventional cartridges covered, but also many of the more unusual, such as the Greener Multi-ball or Plural loads, combustible cartridges, 14/15 bore Egyptian Police cartridges, muzzle loading cartridges and others. If a cartridge, sporting or military, was manufactured in or near the Birmingham area it is probably covered in this outstanding volume.
Whether you are a cartridge collector, arms museum curator, arms historian, cartridge manufacturer, or just plain enjoy learning more on the subject, this is a volume you need on your reference shelf. It's the best this reviewer has seen on the subject, and having been in the old Kynoch factory eons ago, this tome is even better than being on the premises. It is one valuable reference volume.