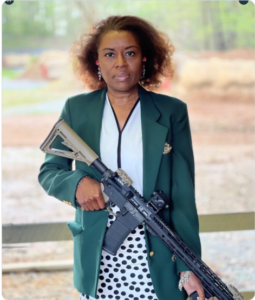 By Tanya Metaksa
Tuesday, Election Day 2021, Nov. 2, was not anticipated to be a transformative election. After all, only two states were having elections for statewide office and they were believed to be Democrat party strongholds.
Both the Commonwealth of Virginia and the state of New Jersey had been easily electing Democrats during the last ten or more years. In a campaign stop in the final days before the election, Vice-President Kamala Harris called it a "bellwether" election. She said, "What happens in Virginia will in large part determine what happens in 2022, 2024, and on."
   Now the Commonwealth of Virginia has Republicans in the offices of Governor, Lieutenant Governor and Attorney General. As of 5 am November 3 the election for the 100-member general assembly 10 seats was still too close to call, while the remaining 90 were split 45 Republicans and 45 Democrats. The election for Governor in New Jersey was expected to be a shoo-in for incumbent Governor Phil Murphy, but as of early Nov. 3, with Murphy claiming a razor-thin victory, it looked as if this race will end up in recounts. The recount system in New Jersey is done at the county level and this could stretch out over days if not weeks.
In other elections across the country Ohio held an election in the 15th Congressional District where NRA A-rated Mike Carey beat F-rated Democrat Allison Russo. In a special election for Texas House District 118 NRA endorsed John Luhan, a Republican, flipped the historically blue San Antonio area. In three special elections for state legislative districts in Kentucky Republicans were elected.
Also in municipalities from Bellingham, Washington to Albany, New York citizens had the opportunity to vote on initiatives to curtail, change or even defund police activity. What started as a "defund the police" slogan has now morphed into a political effort. Elections earlier this year where referenda to transform police departments were defeated included Proposition B, a proposal to repeal collective bargaining for police officers, in San Antonio, Texas and Proposal P, a revision of the Detroit, Michigan city charter that included restructuring the police department. Yesterday citizens in the cities of Austin Texas, Minneapolis Minnesota, Bellingham Washington, Cleveland Ohio and Albany, New York all had the opportunity to support or defeat referenda that would change their police departments.
Voters in Minneapolis, the city where George Floyd died as a result of police officer Derek Chauvin pinning his neck to the ground for nine minutes, the initiative to replace the city police department with a department of public safety was followed closely by the national media. Thus every major media reported early Tuesday evening that voters "rejected a progressive plan to do away with the city's police department." Additionally, in Austin, Texas an initiative to establish minimum police staffing requirements was also defeated.
However, in Cleveland, Ohio the voters supported by a 60-40% margin an initiative to have a civilian review board to oversee the police department, the Albany, New York voters supported by 70% a measure to give the existing Community Police Review Board more authority, and in Denver, Colorado voters gave an Independent Monitor the authority to investigate disciplinary actions against the police and sheriff's department. Finally, in Bellingham Initiative 2 that would prohibit the city police department from using digital technology and artificial intelligence is winning by a slim margin.
Only time will tell if Election Day 2021 was a bellwether, The results of this election, as always, will have consequences that no one can predict. For Second Amendment supporters in Virginia they can breathe a bit better, but the attacks continue. The Town of Dumfires is considering an ordinance to ban guns in town areas and the vote is today, one day after the election. As former First Lady Eleanor Roosevelt said, "The war for freedom will never really be won because the price of freedom is constant vigilance over ourselves and over our Government."