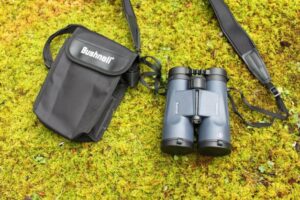 By Jim Dickson | Contributing Editor
Binoculars are an essential tool for the hunter but hunting also often involves rain and most binoculars don't like rain.
They show their disfavor toward it by letting water leak in to fog up the lens on the inside. This is a very bad thing when you want a better look at a suspicious object in the distance or need to determine if that head in the brush has antlers or not. For the stalking hunter who takes a few steps then stops to look and listen before taking a few more steps the use of binoculars greatly increases his chance of success.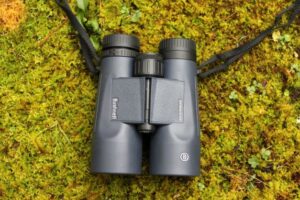 Remember, you rarely see a complete game animal in the woods. The line of the back, an ear or a foot may be all that gives its presence away and these are seen more readily under the magnification of a scanning pair of binoculars. For scanning the edges of a field or an open spot in the woods, binoculars will allow you to see a deer that otherwise would remain hidden in the undergrowth. They will stay hidden at the edges while they look over an open area and decide when they want to venture out into it. That often is after dark so spotting them early determines whether you eat venison or not that night. If rain leaked into your binoculars and they fogged up on the inside, you may just go hungry. You also have to ship your binoculars off for an expensive overhaul.
My wife Betty and I never let rain stop us from hunting. For us, a hunting trip generally meant camping out for a week and hunting from before daylight until after dark. Rain is a part of hunting and it followed us everywhere from the Alaskan interior to the coastal islands of Georgia and all stops in between. I now live deep in the North Georgia mountains in the wettest part of the Appalachian Rain Forest. You quickly learn what can take the rain and what cannot.
There are some good waterproof binoculars made to ITX-7 Standard, which means they can be immersed for 30 minutes under one meter of water without leaking.
This is not just a standard they are supposed to meet, and this brings us around to the Bushnell H2O roof prism binoculars. Every pair is actually tested by being submerged under one meter of water for 30 minutes then checked to make sure there is no fogging after 24 hours before it is shipped out. They are also impact tested by being dropped 3 feet 3 times onto a soft surface about like a carpeted floor.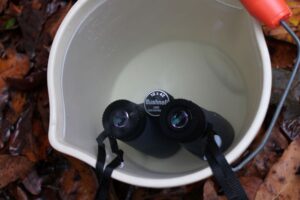 These are not just regular Bushnell binoculars with a better seal, they are a whole new design with an all-aluminum chassis for more durability and weight reduction. All lenses inside and out are multi-coated for maximum light transmission and resolution. Featuring BaK-4 prism glass, a premium quality Barium-Potassium-4 glass also known as Barium Crown Glass, it transmits light better with less light being lost due to internal reflection. They are nitrogen purged and O-ring sealed to prevent any moisture or air expansion inside the binoculars which could cause fogging.
Bushnell's H2O binoculars are rubber armored with a non-slip texture and grip runners for a secure hold when your hands are wet, and numb from the cold. There is an oversize focus knob with a non-slip texture. They can focus as close as 12 feet and then out to infinity, and there is a right diopter adjustment for those who might need it. You can add a tripod adaptor and set them on a tripod for steady viewing without tiring your arms.
My test model was a 10X42 H2O to test which comes with a neck strap and a case. It has a 350-foot field of view at 1000 yards and is backed by Bushnell's 25-year warranty.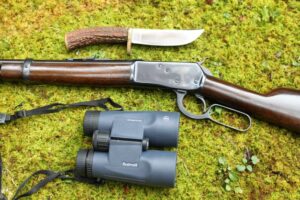 The 10X42 is their most popular size having good power for most applications without excessive size and weight. The 42MM objective lens gives good light gathering and transmission with high clarity and resolution.
It has a 4MM exit pupil. The size of the exit pupil is determined by dividing the objective lens diameter by the magnification number. The human eye's pupil will open to a maximum of 7MM. The maximum eye relief of the scope is 15.6MM. The distance range between the two pupils of your eyes is the IPD (inter pupillary distance) and its range in these binoculars is 56-72MM.
Bushnell's 10X42 binoculars weigh a mere 1.4 pounds and are 150MM long by 130MM wide and 58MM thick. Quite light and compact for so much power and performance.
Clarity was very good on the binoculars tested. Light gathering ability of the 42MM lens was excellent. I found the ergonomics excellent and the binoculars easy to carry and use. The focus adjustment knob was closer to the eyepieces than I am accustomed to and it took a bit of getting used to but it worked well. The grey green color trimmed in black blends in well with the woods although I will take a black marking pen to the white "Bushnell" printed on the neck strap because white is an alarm signal for deer.
The neck strap is wide and comfortable, and is made of modern materials that won't rot and break. The nylon carrying case is rugged, and the rubber lens covers are unusually stout and well fitted.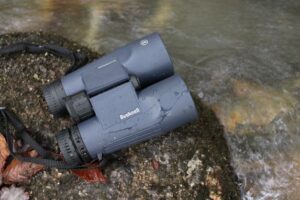 It's about time that someone came out with binoculars suitable for hunting in the rain. Deer will bed down during a driving rain and with the rain muffling the sounds of your movement, it is possible to get close undetected.
Deer and other game can slip through the hunter's field of view unnoticed. Men who are not hunting year round lack the ability to discern game from the background as efficiently as our ancestors did. Binoculars are a big help in this endeavor.
When hunting in rolling or mountainous terrain with open areas opposite you such as bear hunting on Kodiak Island or Mountain sheep, goats, or elk hunting out West binoculars are invaluable in finding distant animals that you can stalk to get close enough for a shot.
The ability of these binoculars to withstand a dunking in the water is of vital importance to the backwoodsman.
Bushnell binoculars are always fine quality. I have used a 7X50 pair of their rubber armored binoculars for years with complete satisfaction. I have also used the very highest quality binoculars that Germany and Japan were able to produce as well as innumerable cheaper optics so I have sufficient examples and experience to make valid comparisons. The best three reasons to buy the Bushnell H2O binoculars instead of other brands is their price, waterproof and fog rating, and aluminum chassis.