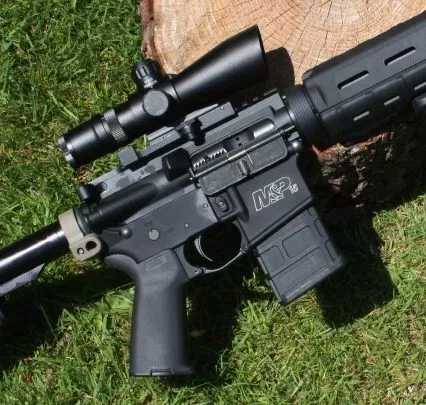 By Dave Workman
Editor-in-Chief
Lawsuits challenging Washington State's newly-inked ban on so-called "assault weapons" are stacking up in the aftermath of Gov. Jay Inslee's bill signing ceremony Tuesday in Olympia, with new legal actions by the National Shooting Sports Foundation (NSSF) and a private group called the Silent Majority Foundation filed a challenge in state court.
According to Fox News, the National Rifle Association is supporting the NSSF federal lawsuit, filed in U.S. District Court for the Eastern District of Washington in Spokane. NRA is not named as a plaintiff. The Second Amendment Foundation lawsuit was filed in U.S. District Court for the Western District of Washington.
The NSSF complaint stretches 24 pages. SAF's complaint—filed while Inslee was actually signing the legislation—is 21 pages long.
Whether more legal actions will be filed remains to be seen. In Oregon following passage of gun control Measure 114 last November, four federal and one state legal action were filed.
In a prepared statement, NSSF Senior Vice President and General Counsel Lawrence G. Keane noted, "NSSF will not stand idly by as politicians cleave away fundamental Constitutional rights from Americans.
"The right to keep and bear arms that are commonly owned belongs to law-abiding citizens," Keane added. "Politicians in Washington exceed their authority when they usurp those rights to mollify radical special-interest groups. These politicians violate their oaths to protect and defend the Constitution and the rights of the citizens they represent."
Fox News quoted Aoibheann Cline, Washington state director of the NRA-ILA, blasting the new statute, which took effect upon Inslee's signing.
"This new law is blatantly unconstitutional," Cline said. "The Supreme Court long-ago ruled that states cannot ban firearms that are in common use."
She noted the AR-15 is the most popular rifle platform in the country today. NSSF has estimated there may be 22-to-24 million such rifles in private ownership.
Contrary to a common misconception, NRA is not a firearms industry lobbying group. NSSF is the firearms industry trade association, while the NRA is a separate group for gun owning citizens.
According to the NSSF news release, "A recent Monmouth poll showed national support for 'assault weapons' bans continues to drop. More Americans oppose banning MSRs than those supporting a ban. Just 46 percent of Americans support such a ban, while 49 percent said they would oppose a ban. That is a nine-point drop in less than a year when the same poll was conducted in June 2022, following the tragedy in Uvalde, Texas."
NSSF is joined in its lawsuit by Sharp Shooting Indoor Range & Gun Shop in Spokane, The Range LLC in Yakima, Aero Precision—a firearms manufacturer—based in Tacoma, and Amanda Banta, a private citizen. They are represented by attorneys Steven Fogg at Corr Cronin in Seattle, Paul Clement, Erin Murphy and Matthew Rowen, at Clement & Murphy in Alexandria, Va.