By Peggy Tartaro | Managing Editor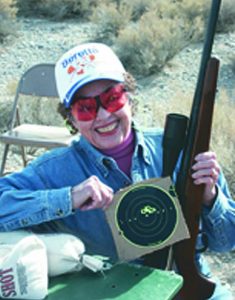 Sheila Link, a giant in the gun community, passed away Mar. 30 at the age of 94.
Link, the first woman president of the Outdoor Writers of America, had a storied career that included helping the National Rifle Association set up its first program for women, called Women in the NRA (WINRA), in the early 1970s.
She was a contributing editor of Women & Guns—indeed the first to be so designated, writing a regular Gear and Gadgets column focused generally on small accessories for firearms enthusiasts, and she prided herself on using everything that came across her desk, but only published comments on products she thought would be useful to others. She also wrote about hunting—a passion of hers—and, as it began to grow in popularity, Cowboy Action Shooting.
She wrote two books, and was a contributor to dozens of other firearms publications, including Field & Stream.
In an email for the New York Times obituary, published Apr. 8, I commented, "Sheila Link's legacy will be as a direct link between our pioneer foremothers, including Annie Oakley, and modern day American women gun owners."
She was born Sheila King in New Jersey, but her family moved to California when she was seven, and she roamed the hills hunting small game with a BB gun and borrowed .22 rifle—her father did not approve of her hobby.
She attended San Mateo College and majored in music, but did not graduate; however, she played with the San Francisco Symphony.
Her daughter, Teresa, recalled to the Times, an incident in which she, her mother and younger brother were sitting alone at a rest stop out West having lunch.
"A car pulled up and a couple of scary looking men just sat there watching us," Teresa Link said.
Her mother, by Ms. Link's account, hurriedly packed her children into the car and drove off. The men followed. Suddenly, she stopped the car, pulled over, ordered her daughter to stay inside, and grabbed a pistol from the glove compartment, strapped it on and stepped onto the road, the Times recounted.
"She stood there staring them down, her hand on the pistol, for what seemed like ages," Teresa Link said. "Then they skidded back onto the road and drove away. She always cited that experience as one of the reasons she was so adamant about the right to bear arms."
Her husband, teacher Frederic Link, died in 2013. In addition to her daughter, she is survived by two sons, Gregory and David, three grandchildren and one great grandson.