By Dave Workman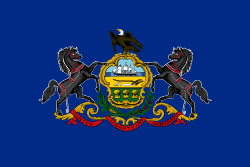 Senior Editor
Pennsylvania gun owners are furious about a planned 60-hour shutdown of the state instant check system (PICS) later this month so the State Police can upgrade its fingerprint system.
While a press release says the shutdown will "temporarily restrict the purchase of firearms and negate the ability to obtain criminal history checks," an earlier "important notice" from Major Martin L. Henry III put it more bluntly.
"During this time," Henry said, "all calls will be forwarded to an operator and placed in an undetermined or denied status. Undetermined status queries will not be processed until after the system is back online, Tuesday May 22, 2012. Although PICS will continue to process calls, it is recommended that firearms dealers and county sheriffs hold calls until the system is fully operational.
"In accordance with federal and state laws," the memo continues, "there can be no transfer of firearms or license to carry concealed permits issued without a unique approval number. No approval numbers will be issued by PICS until full access to the system is restored."
TGM contacted Major Henry, but he refused to discuss the situation. Instead, he referred our inquiry to the State Police public information office, which has not returned our call.
Weighing into this controversy, the Citizens Committee for the Right to Keep and Bear Arms issued a statement early Monday criticizing the looming shutdown, callig it "inexcusable."
"Closing down the background check system, and thus suspending all firearms transactions and concealed carry license processing simply allows the Pennsylvania State Police to obstruct the gun rights of law-abiding citizens," said CCRKBA Chairman Alan M. Gottlieb. "We are not reassured by a promise from the agency that it will expedite this computer system update in order to restore service as soon as possible. Access to the computers for background checks should not be suspended at all."
Gottlieb said the State Police should be able to find an alternate means of processing firearms transactions and carry permit applications while the upgrade is in progress.
The looming shutdown will almost certainly be discussed during a planned Tuesday Second Amendment rally at the state capitol, noted veteran gun rights activist Kim Stolfer.
The annual Right to Keep and Bear Arms rally is slated to begin at 9:30 a.m. Tuesday, May 8 in the Capitol Rotunda in Harrisburg. Several organizations will be represented including Firearm Owners Against Crime, PA Federation of Sportsmen's Clubs, PA Association of Firearms Retailers, PA Rifle and Pistol Association, Eastern Pennsylvania Firearms Coalition, PA Gun Collectors Association, Gun Owners of America, Allegheny County Sportsmen's League, Beaver County Sportsmen's Conservation League, National Shooting Sports Foundation, NRA, Second Amendment Sisters, Unified Sportsmen of Pennsylvania, PA Sportsmen's Association, and many other groups and pro-Second Amendment state lawmakers.
Stolfer told TGM that Keystone State gun owners actually want to be rid of the PICS system, and that a recent public hearing was abruptly cancelled.
"Our organization," said Stolfer, referring to Firearms Owners Against Crime, "has never favored the state-run system because of the track record of the State Police on gun issues."
The last time that the State Police shut the system down was in 2007, and the upgrade was finished faster than anticipated.
But that offers no reassurance this time around.
"We live in an age when computer upgrades should be accomplished considerably faster," CCRKBA's Gottlieb said. "Locking down such a vital system that is important to so many Pennsylvania residents for 60 hours is not an 'inconvenience,' it's an outrage."