By Dave Workman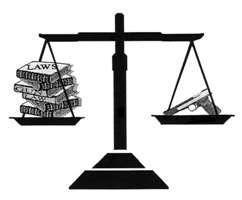 Senior Editor
The State of North Carolina has allowed a federal court ruling that overturned its emergency powers ability to ban firearms outside the home during declared emergencies by not appealing the case.
This gives the Second Amendment Foundation yet another court victory, striking down a gun law on Second Amendment grounds. SAF founder and Executive Vice President Alan Gottlieb noted that this win, along with several others including SAF's landmark Supreme Court victory in McDonald v. City of Chicago, effectively puts the lie to claims by gun prohibitionists that no gun law has ever been struck down on Second Amendment grounds.
"They deliberately ignore the fact that the District of Columbia's handgun ban was overturned," he said. "Likewise, Chicago's ban was stricken by McDonald v. City of Chicago, as was the city's ban on gun ranges. Maryland's draconian regulations on concealed carry were struck down, and so was the Massachusetts ban on firearms ownership by legal alien residents. Part of Omaha's registration law was overturned, and now North Carolina's emergency powers gun ban has fallen. All but one of those cases were filed by SAF."
The North Carolina case is of particular importance, Gottlieb said, because several states have similar emergency powers statutes that allow for suspension of carrying firearms outside the home or business during a declared emergency. It was also important because the judge ruled that such statutes must be held to strict scrutiny, and that the Second Amendment right to keep and bear arms is not strictly limited to the home environment but extends in some form to wherever those activities or needs occur.
"The North Carolina case should send a message to other states and municipalities with similar emergency powers laws that violate civil rights that they should remove those restrictions immediately," Gottlieb stated.
The case, Bateman v. Purdue, was brought by SAF, Grass Roots North Carolina FFE and three individual plaintiffs. Defendants in the case were Gov. Beverly Purdue and Reuben F. Young, secretary of the state's Department of Crime Control and Public Safety, in their official capacities.
In March, federal Judge Malcolm J. Howard, senior United States district judge for the Eastern District of North Carolina, ruled in favor of the SAF complaint. In his ruling, Judge Howard wrote, "…the court finds that the statutes at issue here are subject to strict scrutiny…While the bans imposed pursuant to these statutes may be limited in duration, it cannot be overlooked that the statutes strip peaceable, law abiding citizens of the right to arm themselves in defense of hearth and home, striking at the very core of the Second Amendment."
Judge Howard further wrote that "Under the laws at issue here, citizens are prohibited from engaging, outside their home, in any activities secured by the Second Amendment. They may not carry defensive weapons outside the home, hunt or engage in firearm related sporting activities. Additionally, although the statutes do not directly regulate the possession of firearms within the home, they effectively prohibit law abiding citizens from purchasing and transporting to their homes firearms and ammunition needed for self-defense. As such, these laws burden conduct protected by the Second Amendment."
Gottlieb recalled to TGM that when attorney Alan Gura—who has been SAF's lead attorney on a number of legal actions over the past three years—won the Heller case in 2008, the gun control lobby argued that the ruling was an anomaly.
"We filed the North Carolina lawsuit on the day we won the McDonald case against Chicago," he added, "extending the Second Amendment to all 50 states. This was part of our strategy of winning firearms freedoms one lawsuit at a time."
With North Carolina essentially forfeiting, this brings the number of SAF court wins to six, and Gottlieb is predicting more. He also noted that by letting the lower court ruling to stand, the North Carolina win "frees the foundation to file more legal actions against cities and states that still have laws on the books that violate our constitutional rights."