'This dog can BARK!'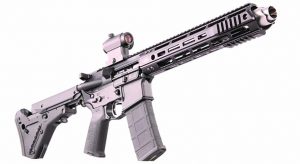 Hardened Arms' new Citadel™ LMC (Linear Muzzle Compensator) is a muzzle device which enlists the latest in tactical technology to move muzzle blast and sound down range. The LMC does not reduce or suppress sound the way a silencer does, instead it concentrates the burning gasses and sound in a blast chamber and shroud and directs them down range. Directing the sound and flame out and away, makes shooting much more comfortable for the operator and any others on the firing line. Without the side opening of a flash hider or muzzle break, the result is a larger flame signature. This ups the "fun" factor, or as one LEO customers put it, "This dog is going to scare the S#%& out of anyone even remotely looking back at it!" Or as we like to say, "This dog can bark!" Available in a 1/2×28 or 5/8×24 thread. SRP: $109.99. Dealer and wholesale programs available. For more information and availability, phone: 425-530-0837, or visit online at: HardenedArms.com.
---
Winchester introducing new autoloading shotguns

Winchester Repeating Arms® has introduced the Super X®4, an autoloading shotgun designed to be lighter, faster cycling, smoother swinging and more ergonomic than previous models. Key features of the Super X4 include a larger bolt handle, oversized bolt release button and a pistol grip that is slimmer and more ergonomic for both right and left-hand shooters. The total weight of the Super X4 is also less than previous models, making it quicker to swing and easier to carry. The new Super X4 12 gauge will be offered in four models including the SX4, SX4 Waterfowl Hunter, SX4 Field and SX4 Field Compact. The composite-stocked SX4 and SX4 Waterfowl Hunter models will be offered in 3" and 3½" versions. The SX4 3" has a suggested retail of $799.99 and $939.99 for the 3½" chambering. The SX4 Waterfowl Hunter in 3" chambering has a suggested retail of $939.99 and $1,069.99 in the 3½" chambering. The new SX4 Field and SX4 Field Compact are offered only in 3" chambering with a suggested retail of $939.99. The Super X4 models include back-bored Technology, Invector-Plus choke tube system, and Truglo® long bead fiber-optic front sight. Length of pull spacers are included with the SX4 and Waterfowl Hunter models. For more information online visit: winchesterguns.com.
---
Browning celebrating 100 years of BAR Rifle

Commissioned by the US Army, John M. Browning designed the original Browning Automatic Rifle in just three months. Variants of this legendary military arm served with distinction from World War I until the Vietnam War. For 2017, Browning will commemorate 100 years of the BAR by offering a special autoloading sporting version, the BAR Safari 100th Anniversary model. The new BAR Anniversary model will feature a steel receiver with polished blued finish and special engravings — military scenes on the right side and hunting scenes on the left side — all highlighted in gold. The 22-inch blued barrel is polished and the stock is Grade V Turkish walnut with an oil finish. Production is limited to 100 rifles chambered in 30-06 Springfield. Suggested retail price is $2,699.99. Also introduced in the BAR rifle line for 2017 is the new BAR MK 3 DBM with an 18" barrel, black composite stock and forearm and a 10-round detachable box magazine. The rifle, chambered in .308 Win. includes integrated Picatinny rail scope mounts. MSRP is $1,469.99. For more information on Browning products, visit online at: browning.com.