New California-compliant pistol grip

Hi-Point created a California-only version of its pistol caliber carbines without the threaded barrel and with a modification that meets the state's new requirements. The factory-installed "California-compliant Paddle" is a flat panel attached to the pistol grip that eliminates the full pistol grip function and feel. Hi-Point California-compliant carbines come in 9mm, .40 S&W, .45ACP and 10mm, and the base MSRP of all California Compliant calibers will increase between $45 and $50, depending on model, configuration, and caliber. And as with any Hi-Point carbine or hand gun, compliant carbines can be purchased through any local gun shop or FFL sporting goods store in California. More good news: Hi-Point carbine owners can retrofit their existing Hi-Point carbines to comply with California law. Existing Hi-Point carbines are NOT grandfathered in, so to stay legal in California Hi-Point California carbine owners can purchase the compliance paddle and attach it themselves. For more information, contact MKS Supply, LLC by phone at 937-454-0383 EST, or visit their website: mkssuppply.com.
---
Sig Sauer adds new 223 Rem and 308 Win FMJ rifle ammo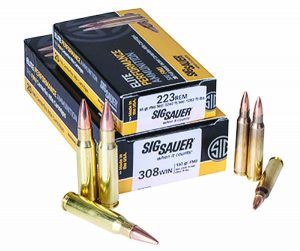 Sig Sauer continues to grow its Elite Performance line of rifle ammunition with the addition of .223 Rem and .308 Win full metal jacket (FMJ) rounds for training. SIG FMJ practice ammunition is ideal for those seeking cost-efficient, high-quality rounds for target practice. The 55-gr. 223 Rem load has muzzle velocity of 3,240 fps with muzzle energy of 1,282 ft.-lbs. and the 150-gr. 308 Win has a muzzle velocity of 2,900 fps with muzzle energy of 2,802 ft.-lbs. "We have been inundated with requests for ball ammunition in these popular rifle calibers," said Brad Criner, senior director, Brand Management and Business Development, Sig Sauer Ammunition. "This new SIG FMJ rifle ammunition fills a need for those who want to practice their shooting without paying match-grade prices for competition-level performance." All Sig Sauer Elite Performance Ammunition is manufactured by at the company's new ammunition manufacturing facility in Jacksonville, AK, to the same exacting standards as the company's premium pistols and rifles. For more information, visit sigsauer.com/ammunition
---
Newly Winchester Deer Season slug Coming Fall, 2018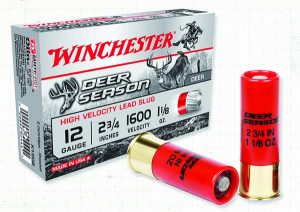 Shotgun slug technology has certainly advanced over time and Winchester Ammunition is at the forefront of product innovation. The Deer Season slug benefits from those technological advancements and is an ideal option for deer hunters throughout North America. The Deer Season Slug is new for 2018 and looks similar to a traditional Foster-style slug, but is unique in that it is paired with a rear stabilizer that is inserted into the heel of the projectile. The slug and stabilizer travel as one downrange, resulting in accuracy that deer hunters need in the field. In addition, this shotshell is designed to be used in smooth bore, rifled choke tube or fully rifled barrels to make ammunition selection easier than ever for deer hunters. Additionally, the large diameter impact tip of the slug will provide rapid energy transfer on deer. The Deer Season Slug—available in 12-gauge 2¾-inch length— is packed five rounds to a box and will be available to hunters for as little as $6-$7/box. Slug weight is 1-1/8 oz. with a velocity of 1,600 fps.