Complete, elaborately illustrated history of the Thompson SMG
Review by Larry S. Sterett | Contributing Editor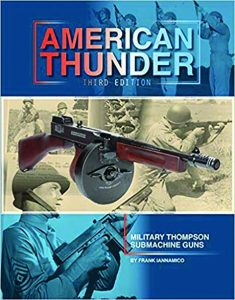 AMERICAN THUNDER, Third Edition, by Frank Iannamico. Published by Chipotle Publishing LLC, 631 N. Stephanie St. #282, Dept. TGM, Henderson, NV 89014. Price: $39.95, plus shipping. Phone: 702-565-746; online: sadefensejournal.com. Also available from inline booksellers.
This oversize 428-page hardbound volume covers one of the most famous or infamous firearms in modern history. The sub-title Military Thompson Submachine Guns tells the reader what to expect, not the Chicago Typewriter Story but the story of the arm that helped win World War II.
Divided into 15 chapters from The Thompson Submachine Gun to Post World War II, it has an extensive bibliography and an index. It is lavishly illustrated with color and black/white photographs of actual SMG's, contracts, bills, and combat photos of the Thompson in use, magazines, advertisements, parts, features and more.
The first chapter is basically historical background on what other countries were doing during WWI and later, the early Thompson designs, including one with a mounted bayonet, a model with a barrel-mounted bipod, the men behind the gun at Auto-Ordnance, and more.
Chapters II and III are devoted to the Colt-manufactured Thompson M1928 and its use by the British, who initially preferred the drum magazine—they ordered over a million drums–over the box or stick magazine and the pistol grip forearm over the horizontal forearm. (One photo shows PM Churchill firing a Thompson which has a pistol grip attached to the underside of the horizontal forearm.) The Thompsons used by the Brits often were refined a bit with such modifications as adding reinforcing screws to the buttstock to prevent splitting or breaking, and mounting the swivels on the left side of the forearm and the top of the buttstock. They apparently wanted the swivels so mounted in order to carry the Thompson on their right side, muzzle down, ready to swing up into action.
The Thompson is recognized worldwide, probably due to its distinctive shape. However, the original design went through many subtle changes over the years, with the majority probably being simplifications of a rather complicated (Blish) design, or to simplify production. Among these were the removal of the cooling fins on the barrel, the removal of the distinctive compensator, replacing the excellent (expensive and not often used) Lyman rear sight with a stamped non-adjustable L-type, changing the shape of the safety-selector levers, and finally the change from the M1928 Blish design and slotted top of the receiver charging handle to the much simpler straight blow-back M1 with plain charging handle on the right side of the receiver. Other changes included not milling the receiver to accept the drum magazines, but only stick or box magazines—20-round or later 30-round capacity. (This reviewer had a neighbor, now deceased, who carried an M1928 while serving as a half-track driver with Patton in North Africa, Sicily, and Italy. When asked if he used the 50-round drum magazine or the 20-round sticks, he stated he used the drum briefly, but switched to the 20-round box magazines. "The drum took too long to refill (load with fresh ammo), and I could carry enough sticks and reload them when ammo was available and I had time.)
Chapter X is devoted to the Thompson Drums and Magazines. The C- (100-round capacity and heavy, particularly when loaded) and L- 50-round capacity magazines were considered obsolete by mid-WWII. This meant the 20-round and newer 30-round box magazines could handle the job. At least half-a-dozen sub-contractors produced magazines for the Thompson. These included the United Specialties Company of Chicago, the Charles Fischer Spring Company of Brooklyn, the Crosby Company of Buffalo, the Seymour Products Company of Seymour, CT, the Worcester Pressed Steel Company of Worcester, MA, and the Sparks-Withington Company. This chapter provides excellent coverage of this important subject, with many details and photographs. (Imagine producing 3,976,873 thirty-round box-type Thompson magazines at a cost of 26-cents per magazine and still making a profit.)
Chapters XI Accouterments and XII Thompson Parts cover subjects often overlooked—slings, ammo pouches, cleaning tools, ammunition, manuals, sights, forearm mounts, sears, and much more. (The Thompson was one of the first US weapons to use Evansville, IN, produced steel cased .45 ACP ammunition.)
Every firearm which functions correctly and becomes popular gets copied by someone. The Thompson was no exception and some copies, prototypes, etc. are covered in the final chapters of this excellent tome. The Chinese produced thousands of M1928 style Thompson's, often with a longer barrel, no compensator and a different front sight. Others include Turkey, Vietnam, and even the Brits, although the last tended toward 9mm versions.
Many persons who used a Thompson in combat complained about muzzle climb; the usual solution was to lay the Thompson on its side and let it move to the left in an arc rather than upward. This volume features several inventions intended to correct this climb, including the Straight-Line Buttstock, Williams Anti-Climb Device, the Levelizer, and the return of vertical foregrip.
There are other books on the Thompson submachine gun, but this has to be the ultimate book on the subject. Well presented, and elaborately illustrated with top-quality detailed photographs featuring many close-up views, it should be on the reference shelf of every small arms historian-researcher, military arms museum curator, WWII historian, or small arms enthusiast. It is one EXCELLENT volume.
---
Complete, elaborately illustrated history of the Thompson SMG
Review by Larry S. Sterett | Contributing Editor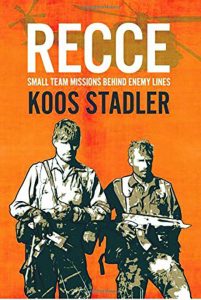 RECCE by Koos Stadler. Published by Casemate Publishers, 1950 Lawrence Road, Dept. TGM, Havertown, PA 19083. Price: $32.95, plus postage. Available through most storefront and online bookstores.
This 152-page hardbound volume is a story of one man's tour with the South African Special Forces, known as Recces. A career officer in the S.A. National Defence Force for over three decades, Stadler spent four years as the Defence Attache to Saudi Arabia. However, much of his career was spent on missions on the border between Angola and Namibia in guerrilla war against the Southwest Africa Peoples' Organization (SWAPO). This book is based on a ten-year period out of more than two-dozen years of operation
Following a brief (3-page) Author's Note, this tome is divided into four sections, each of which contains from three to nine chapters. There are a half-dozen maps, and two separate photograph sections. The maps are full-page size and quite simple, serving only to provide general info on landmarks—forts, crossings, etc.–in the region or area of a specific mission. There is also a List of abbreviations (very valuable), an eight-page epilogue, and a couple of pages of notes, but no index.
The photo sections contain 14 and 16 illustrations respectively, some color and/or black-and-white photos and a few interesting sketches. Featured are team members, landmarks, friends, weapons, and a mission church. Not to be forgotten are photos of Stadler's wife and twin sons.
The first section, or Part 1—Courage and Action— is about the formative years of a young boy whose teacher father became the pastor of a Dutch Reformed Church. The lead-in, however, is dramatic—Stadler with thermal vision goggles, explosives, etc., is crouched under the belly of an enemy MiG-23 when a voice less than three meters away demands "Who are you?" as he hears a Kalashnikov being cocked. Then, flashback to the formative years!
Part 2: The Bushmen isn't lengthy enough. It covers actions by small teams; ten-man teams were deemed too large, and five men were still not as good as two-men due to the trails they make. The Bushmen, with their uncanny tracking ability saved many a mission, with one man in particular—Xivatcha Shekambe—being at the top. "To this day I consider him one of the best soldiers in the bush I ever came across. He had an amazing sense of awareness that often bordered on a foreboding, a sixth sense that made him able to understand and predict tactical situations."
Part 3 on Special Forces provides details you wouldn't normally consider, unless your life depended on them…which it did. Taking new shiny, stiff, equipment—webbing, water bottles, etc., and making it appear as if it had been in use for years; the AK-47s (AMD-65 with folding stock) were given a bit, if dull camo paint, etc. Booting a man off the team because he snored and could give away the position of a hide was a given; listening to someone snore is irritating at its least, but when it can bring several thousand rounds of enemy fire in your direction, it's a definite No No. Then, there are officers back at HQ who believe they know more about the situation in the field than the men in the field.
Part 4 on Small Teams provides an insight on what the title implies, and as do many of the chapters, begins with a notable quotation, "Whenever a warrior decides to do something he must go all the way, but he must take responsibility for what he does…he must first know why…and then…proceed without remorse…" by Carlos Castaneda (Journey to Ixtlan). Many of the quotes are from Castaneda, but the chapter "Into the Fray" begins with a quote from Numbers 13.2 in The Bible ESV, "Send men to spy out the land of Canaan, which I am giving to the people of Israel. From each tribe of their fathers you shall send a man, everyone a chief among them."
If not the best, this is one of the most interesting books of its type this reviewer has ever had the pleasure of reading. Adventure, mystery, historical. Even the epilogue and end notes are excellent. (The MiG-23? It survived, as did Stadler.)
---
Comprehensive gunsmithing guide to most centerfire handguns
Review By Larry S. Sterett |Contributing Editor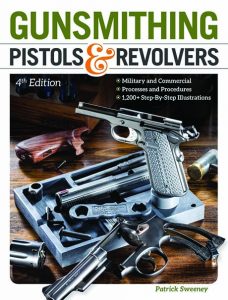 GUNSMITHING PISTOLS & REVOLVERS, 4th Edition, by Patrick Sweeney. Published by Gun Digest Books, Krause Publications, 700 East State Street, Dept. TGM, Iola, WI 54990; online: krausebooks.com. Price: $34.99, plus postage. Available at most storefront and online bookstores.
This large 382-page softbound volume provides the gunsmith, amateur and professional, with the knowledge to keep most handguns in good working order. In 23 chapters, from Introduction to Pistolsmithing to Sources for Just About Everything You Need, it lays it out. Cleaning, welding, refinishing, sight replacement, and even correcting someone else's mistakes are covered, and if there is something not covered which should have been, this reviewer missed it and he practiced general gunsmithing for a few decades.
Separate chapters are devoted to three of the most popular auto-loading pistols—the M1911, Glock, and Beretta (M9, 92, 96, etc.). Much of this information can be focused on pistols of the same basic design, particularly those based on the time-tested M1911 design.
Major problems with auto-loading pistols result from the feeding of cartridges from the magazine into the barrel chamber. It might be due to the feed ramp, the magazine lips, etc., or the ammunition—handloads in particular. (Handloads may have bullets seated too long, too short, or the wrong shape for feeding in some pistol designs. (Pistols designed for military use are to be used with cartridges loaded with round nose, full-metal-jacket bullets. They will usually feed cartridges loaded with other bullet-nose shapes, such as truncated. However, ammunition in which the bullets have deep, wide, sharp-edged, etc., noses may case feeding problems.) The chapters on malfunctioning of revolvers and pistols are excellent, as is the one on magazines.
This tome is well illustrated with black and white photographs—over 1,200 according to the cover; a few pages do not have an illustration, and most feature from one to six photographs. The majority of the photos are clear/sharp close-up shots so detail is readily visible. A few photographs were noted as being a bit too dark to provide great detail, but these were exceptions.
This is a volume which should be on the reference bookshelf of every handgunner, especially if they own more than one handgun, shoot frequently, and enjoy working on their handguns. It is not a complete book on the subject, and it is not stated as such. Rimfire handguns, single shot pistols, and a few unusual handgun designs are not featured, nor is there an index.
It's still a GREAT book on the subject.