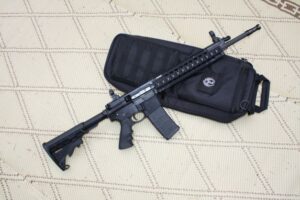 The Second Amendment Foundation and Citizens Committee for the Right to Keep and Bear Arms have publicly thanked several groups that submitted an amicus brief to the U.S. Supreme Court in support of their challenge of the Maryland ban on semi-auto rifles. The case is known as Bianchi, et al. v. Frosh, et al. The lead law firm is Cooper & Kirk, Washington, D.C.  
The brief was submitted by Professors of Second Amendment Law, the Cato Institute, John Locke Foundation, Center to Keep and Bear Arms, and the Independence Institute. It was prepared by attorney David B. Kopel with the Independence Institute. Participants in the brief are also represented by George A. Mocsary, University of Wyoming College of Law; Trevor Burrus and Ilya Shapiro, Cato Institute; Cody J. Wisniewski, Center to Keep and Bear Arms and Jon Guze, John Locke Foundation.
In their brief, the academics note, "The Second Amendment extends, prima facie, to all instruments that constitute bearable arms." Heller, 554 U.S. at 582. "In other words, it identifies a presumption in favor of Second Amendment protection, which the State bears the initial burden of rebutting."
'Heller noted that the Second Amendment's protection of arms in common use "is fairly supported by the historical tradition of prohibiting the carrying of 'dangerous and unusual weapons," the brief adds.
Elsewhere in the 28-page brief, the academics argue, "Self-defense is not the only Second Amendment activity. The right encompasses arms "typically possessed by law-abiding citizens for lawful purposes," Heller, 545 U.S. at 625 (emphasis added). "The traditional militia was formed from a pool of men bringing arms 'in common use at the time' for lawful purposes like self-defense." (emphasis added)."
But there is one paragraph in the brief that should be particularly alarming.
"The Second Circuit upheld rifle bans under intermediate scrutiny by applying an especially rights-unfavorable version to the Second Amendment. Even if Heller allowed intermediate scrutiny for bans on common arms, interest-balancing requires a court to weigh both parties' evidence. Yet the Second Circuit considered only the state's evidence. The same methodology would have upheld the handgun ban in Heller."
"No pun intended, but the caliber of participants in this amicus brief is second-to-none," said SAF founder and Executive Vice President Alan M. Gottlieb. "David Kopel and his colleagues have assembled a great brief that explains the problem with Maryland's gun ban law in 28 pages. Add this to the brief recently submitted by 25 state attorneys general supporting our case, and I believe the justices will be favorably impressed."
SAF and CCRKBA are joined by the Firearms Policy Coalition (FPC), Field Traders, LLC, and individual plaintiffs Micah Schaefer who resides in Ann Arundel County, and David Snope and Dominic Bianchi—for whom the case is named—from Baltimore County.
"When the possession of commonly-owned firearms by private citizens is criminalized, it is imperative for good, like-minded people to stand together and defend constitutional rights," Gottlieb said. "The support we are receiving in this case is both humbling and reassuring. We are hopeful the Supreme Court grants our petition for review. Banning the possession and transport of a whole class of commonly-owned firearms is an affront to the Second Amendment that cannot be allowed to go unchallenged."