By Dave Workman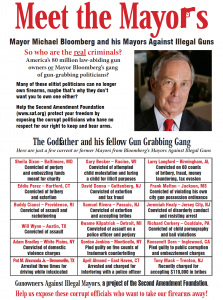 Senior Editor
San Diego, CA Mayor Bob Filner, a member of the anti-gun Mayors Against Illegal Guns, has been sued by a former aide for sexual harassment that allegedly included asking when she would "get naked," and suggesting that she work without panties, according to reports from Reuters, the San Diego Union-Bulletin and the local NBC affiliate.
The Reuters story reported that the mayor had acknowledged "inappropriate behavior toward female staff members." However, Filner insisted that he will fight the allegations.
This is not the first time that a member of the MAIG has gotten into trouble. The eight-year-old organization, founded by anti-gun billionaire New York Mayor Michael Bloomberg and equally-anti-gun Boston Mayor Tom Menino, has seen a string of members run into all sorts of legal trouble. The pattern was significant enough for the Second Amendment Foundation to launch a campaign to reveal the problems.
Lately, MAIG has suffered some embarrassing moments including a public relations gaffe that mentioned the names of terrorists and cop killers on a list of "gun violence" victims read aloud on a 25-state, 100-city anti-gun bus tour. The list was edited to remove the names of criminals, but not until after some damage had been done.
Compared to some of his colleagues, the allegations against Filner may seem rather pale. Some MAIG members and former members have committed felony crimes. There are convictions for bribery, fraud, money laundering, child molestation, assault, racketeering and embezzlement. When SAF launched its expose, founder Alan Gottlieb quipped rhetorically, "And these people want to disarm law abiding gun owners?"
The sexual harassment lawsuit was filed by Irene McCormack Jackson, who formerly worked as a reporter for the Union-Bulletin.
Filner was quick to issue a statement in which he expressed sadness at the charges, and insisted, "Once due process is allowed to unfold, I am certain there will be a better understanding of this situation."
"I do not believe these claims are valid," he stated. "That is why due process is so important. I intend to defend myself vigorously and I know that justice will prevail."
He did not assert the allegations were fabrications. He did beg voters to "temper their rush to judgment."