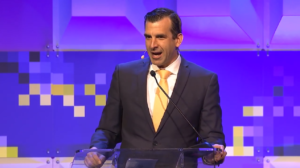 The City of San Jose may be headed for a court battle as the city council is preparing to adopt a new gun control scheme that will require gun owners in the city to carry liability insurance, and also pay an annual fee, estimated somewhere between $25-$35, ostensibly to provide "services" from a new non-profit, according to the San Jose Mercury News.
The proposal ignited a lively discussion at AmmoLand News.
The council is scheduled to vote on the proposal Tuesday, and at least one national gun rights organization—National Foundation for Gun Rights—is already threatening legal action. That group may have to race other Second Amendment groups to the courthouse, considering the nature of the plan, pushed by anti-gun Democrat Mayor Sam Liccardo.
He first proposed the gun control plan more than two years ago following the mass shooting at the Gilroy Garlic Festival. The killer in that incident brought a firearm banned in California, but legally purchased in neighboring Nevada, to the event. He cut a hole through a security fence to gain entry and opened fire, killing four people including two children.
It is not clear how the mandate would be enforced if it is adopted, as anticipated. According to the Mercury News, San Jose Police Chief Anthony Mata said if his officers "come across a firearm" during their normal course of duty, they will ask the person with the gun if they have insurance and paid the fee.
"We are not going to go door to door inspecting guns to see if they have insurance," he told the newspaper.
Liccardo detailed his plan in a recent Op-Ed published by the Los Angeles Times.  
"Requiring every gun owner in my city to carry liability insurance will better compensate unintentional shooting victims and their families for medical and related expenses," Liccardo wrote. "More importantly, insurance can also incentivize safer gun ownership. Risk-adjusted premiums will encourage owners to take gun-safety courses, use gun safes or install child-safe trigger locks to reduce the annual toll of accidental gun harm."
But there is the question of constitutionality, and it's a big one. Can a municipality force gun owners to purchase insurance, and can they essentially penalize gun owners financially for crimes they did not commit? It is a question the courts will very likely have to answer.
Liccardo's thinking has been clear from the outset.
"While the Second Amendment certainly protects the right to own a gun, it does not mandate that taxpayers subsidize the possession of those guns," Liccardo said s council meeting. "And we need a mechanism that will both compensate injured victims and take some of the burden off of taxpayers."