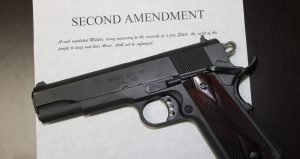 By Tanya Metaksa
Anti-Second Amendmentpoliticians in New York again are desperate to pass laws against their constituents' rights in anticipation of the US Supreme Court (SCOTUS) decision in New York State Rifle & Pistol Association v. Bruen.
That decision is expected before June. As Jonathan Turley, a distinguished Constitutional Scholar, wrote, "New York has not had a great history with the Court recently on gun control cases. New York politicians triggered a long fight over a law that many of us viewed as unconstitutional – pledging publicly to take the law limiting the transportation of guns to the Supreme Court. Once the Supreme Court accepted the case, however, the same politicians changed the law to avoid a final review of the constitutionality."
In 2019 SCOTUS accepted New York State Rifle & Pistol Association Inc. v. City of New York, New York. This case was about the NY City's ban on transporting a licensed, locked, and unloaded handgun owned by a city resident to a home or shooting range outside city limits. As Turley mentioned New York State law was made slightly less restricted in 2019 in an attempt to forestall the Court from creating new pro-gun case law. In December 2020 I wrote "Since January 22–almost a year ago–gun control advocates, the City and State of New York have been on a frenzy to change New York city law. All these entities fear that a pro-Second Amendment majority on SCOTUS would create case law that would broaden the scope of Heller and McDonald. Thus have worked diligently to change the laws both in NYC and in New York state to force SCOTUS to stop considering this lawsuit. NYC went through the process of liberalizing their gun control ordinance to allow licensed gun owners to transport their firearms to homes and shooting ranges outside the city. Governor Andrew Cuomo, an ardent anti-gun politician, got involved and signed the New York State legislature's new gun law that allowed licensed handgun owners to transport firearms to places they are legally permitted to have them."
The tactic worked, the Court in a 6-3 decision sent the case back to the lower court as the ordinance had already been replaced—making the case MOOT! Now, in 2022, we are witnessing a similar strategy. The Democrat anti-gun politicians have begun to introduce bills in anticipation of the possible 2022 SCOTUS decision. They have a plan to circumvent any SCOUS ordered requirements to replace current laws with "shall issue" firearms carry laws.
On Jan. 10, Rep. Jo Ann Simon introduced A08684, a bill prohibiting "firearms in certain locations, including but not limited to all forms of public transportation, large gatherings and food and drink establishments," in the New York Assembly. If the politicians can deny law-abiding citizens the right to carry firearms almost anywhere, a Right-to-Carry permit becomes just a useless piece of paper. Law abiding citizens are still left defenseless, while lawsuits abound and attorneys keep laughing all the way to the bank.
Representative Jo Anne Simon from Brooklyn was elected to the NY Assembly in 2015 and was the prime author of a 2018 red flag bill that became law. She is decidedly anti-Second Amendment and her web page features those credentials: "Jo Anne's nationally recognized work on red-flag laws is helping to prevent firearm tragedies and her legislation will ensure that New York conduct hard research to combat the public health crisis of gun violence." This new legislative effort is being led by anti-gun politicians in order to deny New Yorkers their Second Amendment rights despite any positive ruling by the highest court in the land, the U.S. Supreme Court..