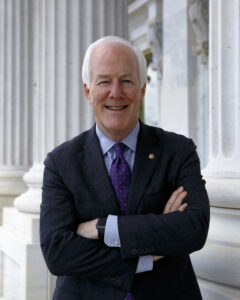 By Dave Workman
Editor-in-Chief
Several members of the U.S. Senate from both parties have sent letters to Biden administration officials expressing their opposition to administration plans to withhold funding for archery and hunter education programs using the argument that such programs cannot receive taxpayer money under the 2022 Bipartisan Safer Communities Act (BSCA).
BSCA is Joe Biden's gun control package adopted last year in response to the Uvalde school shooting. According to Fox News, the Department of Education in July "shared federal guidance to hunting education groups highlighting that hunting and archery programs in schools would be stripped of funding."
The opposition is led by Texas Republican Sen. John Cornyn, who has been joined by colleagues on both sides of the aisle. In their letter to Education Secretary Miguel Cardona, they wrote, "the Department of Education…has misinterpreted the language to exclude certain educational activities from receiving federal resources."
As explained in the Fox report, the BSCA "included an amendment to a subsection" in the Elementary and Secondary Education Act which listed several "prohibited uses" including "training in the use of a dangerous weapon." Cornyn contends this applied to funding for training school resource officers.
"This is concerning," Cornyn and his colleagues say in their letter, "because of the important role these enrichment programs can play in students' lives. Archery is an inclusive extracurricular activity that empowers students from all backgrounds to learn a sport and compete. Hunter safety classes and programs play an important role in teaching safety, wildlife management, landowner relations, and personal responsibility to students."
The letter ends with the senators stating, "We ask that the Department interpret the language as Congress intended and no longer ask educational entities to seek other funding sources for educational enrichment programs that align with the intent of ESEA- supporting student achievement and student well-being. It is our hope that the Department will rethink its latest guidance that threatens students' access to these programs, which support pathways to professional success, community safety, and personal wellbeing."
Last month, Fox News reported that Montana Senator Jon Tester, a Democrat, had sent his own letter to Cardona, "urging him" to reverse course on the funding cut.
"In Montana," Tester wrote, "our schools have long offered shooting sport and hunter safety classes that play an important role in teaching safety and personal responsibility to students. Outdoor recreation is foundational to our western way of life and any reduction of federal support for these educational programs is unacceptable."
According to Cornyn's office, also signing onto his letter were Senators Kyrsten Sinema (I-AZ), Thom Tillis (R-NC), Bob Casey (D-PA), Shelley Moore Capito (R-WV), Maggie Hassan (D-NH), Joni Ernst (R-IA), Tim Kaine (D-VA), Roger Wicker (R-MS), Martin Heinrich (D-NM), Mitt Romney (R-UT), Tammy Baldwin (D-WI), Lisa Murkowski (R-AK), Amy Klobuchar (D-MN), Susan Collins (R-ME), Mark Kelly (D-AZ), Lindsey Graham (R-SC), and Joe Manchin (D-WV).