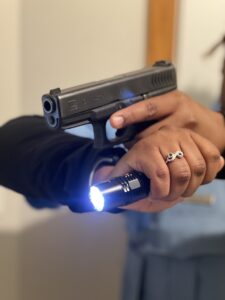 By Michael A. Black | Contributing Editor
If you are ever involved in a dangerous encounter that requires a shooting response, chances are it will come at the worst time and go downhill from there.
Thus, being prepared and practicing your shooting techniques are essential elements of ensuring a good chance of survival. It's also a distinct possibility that such an encounter will occur in less than optimal conditions. Being able to shoot effectively in a low light or totally dark environment is a big plus in the preparedness column, so put in that time on the range, and practice shooting in various low light conditions.
Even if you are unable to actually fire your weapon in a room-darkened range area, there's nothing stopping you from doing some dry-fire practicing.
First, any time you do dry firing in a non-range environment, make sure you check your weapon and remove any live rounds, whether revolver, pistol or rifle. (One of my previous articles featured the Blackbeard dry firing module by the Mantis company that can be fitted into your AR-15 to allow continuous trigger pulls in dry firing without the chance of an accidental discharge mishap.)
But this time let's concentrate on firing handguns in the dark, which is a likely scenario should you be searching a building or confronting an intruder who breaks into your house at night.
Let me reiterate, there's plenty of stuff to practice, but if you are practicing in your home, I can't emphasize enough that you should check and recheck your gun, and then recheck it again. It's not even necessary to pull the trigger or have a magazine in your weapon. What you're practicing are such things as drawing your sidearm, quick target acquisition, and proper gripping techniques while using a flashlight.
Parenthetically, I'd like to add that having a laser sight is highly recommended. If an intruder breaks into your house at three in the morning, having the laser dot to guide your shooting is a big advantage. I love the flashlight/laser sight attachment on my Glock 17. It allows for quick target acquisition, and the attached flashlight assembly can be used in combination to really shed some light on the situation.
But not everyone has a pistol equipped with rails, and not everyone has this attachment. Also, there's our old buddy, Murphy, who's always lurking in a corner somewhere ready to throw in his monkey wrench. I was at my annual range qualification as a retired copper last summer and I was using my newly purchased flashlight/laser assembly on my Glock. The tiny red dot helped me keep a tight pattern on the target and allowed for a strong, two-handed grip on my pistol. I was going to town in the subdued lighting course when it came to the section of firing multiple rounds at multiple targets. I hadn't secured the assembly properly and as I was firing it came loose and was thrown completely off the rails of my gun. I kept firing, of course, and went through the rest of the timed course without the attachment. I passed, thanks in part to the tritium night sights I had installed on my weapon, but the unexpected malfunction was a distraction and threw my off my game. In a real-life deadly encounter, you can't afford any missteps. They could be fatal.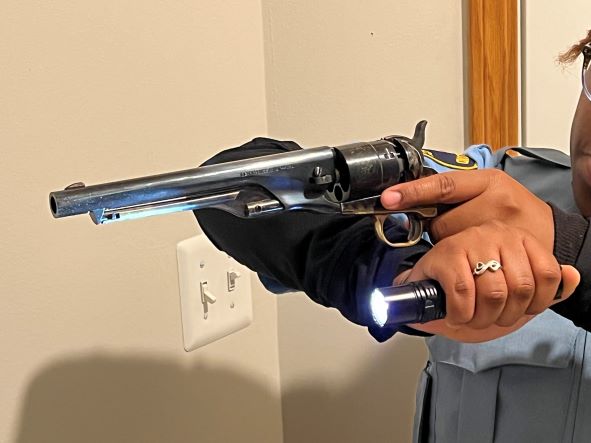 So it got me thinking about Murphy's Law ("Anything that can go wrong, will go wrong") and how I should prepare should such a mishap occur in the future. Like I said, you should train for every eventuality and every lighting condition. If you have a flashlight, you should know how to hold it so that you can accurately aim and fire your weapon. The tried and true technique if you have a smaller, mini-mag flashlight is to hold it in your non-dominant (or "weak") hand, and brace your firing hand by pressing the backs of your hands together and firmly resting the heel of your firing hand on the uppermost part of your non-dominant wrist, as depicted in the photograph.
Speaking of auxiliary equipment, make sure you choose a quality product. After all, you've got a lot on the line, so make sure it's a product of high quality.
The pictured flashlight is the Fenix PD36R, which is a rechargeable flashlight boasting 1600 lumens. The PD36R comes equipped with the essential tactical tail-switch, which can be activated by the press of your non-dominant hand's thumb. In some ways using a flashlight like the PD36R offers an advantage or two in itself.
For one thing, you must use your trigger finger to activate or switch on the flashlight/laser attachment, and the beam can then be traced back to you by your adversary showing your location and position. Using a flashlight offers an instant on/off advantage and your trigger finger is kept free. Keeping your hands pressed together allows you to illuminate the target area while keeping the weapon aimed downrange. Practice switching the tail-switch on and off, and if possible, do this on the range in low light conditions.
The beam of the PD36R projects 928 feet, or 283 meters. It's durable, impact resistant, dustproof, and even functions under water to a depth of 2 meters. (Remember I said to train for every eventuality.) It has six different settings, from Turbo (1600 lumens), High (800 lumens), Medium (350 lumens), Low (150 lumens), Eco (30 lumens), and strobe (1600 lumens). The re-chargeable Li-ion battery has various runtimes of 2 hours on Turbo to 5 hours on High, 8 hours on Medium, 26 hours on Low, and a whopping 115 hours on Eco. There's a built in charge indicator that lets you know how much juice is left in the battery, which can be conveniently charged through the USB-C port on the flashlight. This mighty-mite retails for $99.95 at the fenix-store.com and can be found at fenix-store.com/fenix-pd36r-rechargeable-1600-lumen-tactical-flashlight/.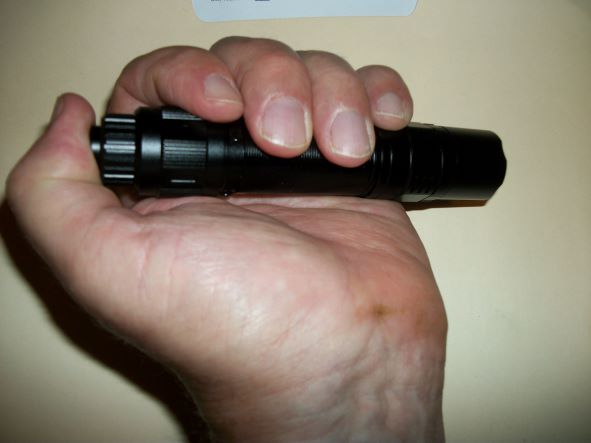 Getting back to our training scenario, as I said, practice for every scenario. Where are the best places to keep your gun and your trusty flashlight when you settle into bed each night? Figure that out and practice rolling out of bed, grabbing your life saving tools, and then getting up and moving with your weapon. (If you have small children in the house, investing in a biometric storage safe is a good idea.)
Plan for other eventualities, too. If you have a concealed carry permit and wear your gun under your shirt or inside a pocket, practice a smooth draw from your holster with one hand, while removing the flashlight from your belt with the other. (The PD36R comes with a belt carrier case.) If you don't have a carrying case, buy one. Also practice withdrawing a fresh magazine and doing tactical reloads. And practice moving with your weapon at the ready, using your flashlight to illuminate the way.
Hopefully, you'll never have to utilize these techniques, and chances are good that you won't, but practice them enough times to build the proper muscle memory. Remember, the way you train is the way you'll react, and our buddy Murphy's lurking just around the corner… So be prepared.