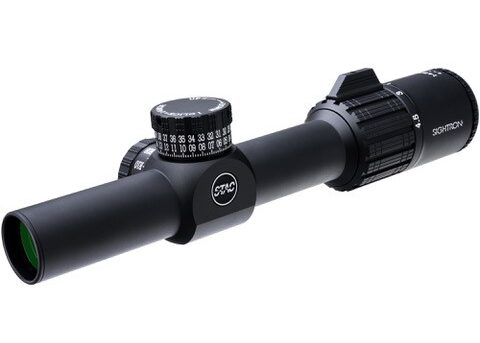 SIGHTRON, one of the world's most innovative optical observation and aiming device companies, has launched the new S-TAC 1-4.5×24 SR1 riflescope.
The S-TAC 1-4.5×24 SR1 Service Riflescope is the ultimate tool for competitive shooters that demand the very best optical technology, according to a company release.
"We couldn't be more pleased to offer this high-performance riflescope to the competitive sport shooter," said, Mack Matsumoto, president of SIGHTRON. "We are laser-focused on developing the best-in-class performing riflescope on the market today, and the new S-TAC SR1 is a reflection of that."
The new S-TAC 1-4.5×24 SR1 was designed and engineered for Civilian Marksmanship Program's Service Rifle and NRA High Power Rifle competition use, the S-TAC 1-4.5×24 SR1 utilizes SIGHTRON's custom optical glass with exclusive MC-333 lens multi-coatings. This combination provides exceptional light transmission while reducing flare, so the shooter can easily acquire their target. Housed in a durable 30mm aircraft aluminum tube, the S-TAC 1-4.5×24 SR1 is engineered to withstand up to 1,000G's of shockproof performance, and is nitrogen charged for waterproofing up to IPX7 standards. SIGHTRON's exclusive ExacTrack erector tube system provides consistent, reliable, and repeatable adjustments. This new riflescope provides an impressive 100 MOA elevation travel and 60 MOA of windage travel in ¼ MOA clicks. The new SR1 reticle provides a clean sight picture with a 9 MOA circle surrounding a ½ MOA aiming dot. One MOA stadia lines on the horizontal and lower vertical areas help draw the eye to the center of the reticle. The new SR1 also has an adjustable throw level to customize to the shooters preferred magnification setting. The new 1-4.5×24 SR1 and all SIGHTRON riflescopes are backed by a lifetime worry-free warranty.
Features:
ExacTrack Windage & Elevation System 2nd Image Focal Plane
Exclusive Optical Design Waterproof & Fog Proof
MC-333 Multi-Coatings Shockproof One-piece Aluminum Tube
Length: 10.3" Weight: 20.8 oz.
MSRP: $499.99
For more information on the new S-TAC 1-4.5×24 SR1 riflescope and the complete product line from SIGHTRON, please visit sightron.com .