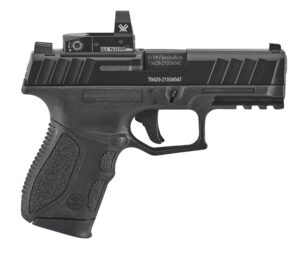 Stoeger Industries has announced an optic-ready option to its STR-9C Compact 9mm pistol line.
Increasingly, red dot optics are being adopted by EDC and CCW practitioners for their fast sight acquisition and ready visibility in all lighting conditions. Stoeger answers that growing demand with their STR-9C Optic-Ready—a polymer-frame, striker-fired pistol that fits the optimal balance between full-size and sub-compact personal defense handguns.
The new STR-9C Compact Optic-Ready comes from the factory machined to accept several of the more popular red dot optics on the market today. Built to the same exacting standards as the original STR-9C Compact, the STR-9C Compact Optic-Ready features a factory optic-cut slide with four included mounting plates to accommodate the most common optic mounting patterns. With this system, installing a red dot sight is an easy DIY project that doesn't require the services of a gunsmith.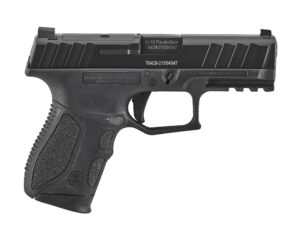 The STR-9C Compact Optic-Ready is built on a rugged polymer frame that includes a medium backstrap that provides a comfortable, ergonomic fit for most hand sizes. The Nitride-treated slide is precision-machined with aggressive front and rear serrations for easy slide manipulation in any condition. Other features include a 3.8-inch barrel, tactile loaded-chamber indicator, snag-resistant three-dot sights, left- or right-hand magazine release positioning, and an integrated accessory rail.
A well-balanced semi-auto sized for EDC and CCW applications, the STR-9C Compact Optic- Ready is available in 13+1 (#31764) or 10+1 (#31763) cartridge capacities. Overall length is 6.9 inches, and unloaded weight is a pleasing 24 ounces. MSRP for both 13- and 10-round models is $399.
To learn more about Stoeger's STR-9C Compact Optic-Ready 9mm or to see the full line of Stoeger personal defense handguns, shotguns, and air guns, visit StoegerIndustries.com.