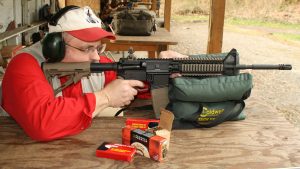 When the Washington State Senate Law & Justice Committee held a hearing on a measure to ban so-called "assault weapons" Monday, thousands of Evergreen State residents signed on to oppose the legislation, outnumbering proponents at least 10-to-1.
Senate Bill 5217 is a measure sponsored by Sen. Patty Kuderer, a Democrat. She called the semi-automatic rifles affected by her legislation "weapons of war," which opponents say is demonstrably false. Kuderer appealed to her colleagues to move the legislation because seven other states have enacted such a ban. Supporters included the parents of one of the victims of the Las Vegas massacre on Oct. 1, 2017.
During her testimony, Kuderer alluded to the weekend incident in Texas where a British citizen took four people hostage at a synagogue, which seemed awkward since that man didn't use a rifle, but an illegally-obtained handgun, and he was the only casualty.
Under Kuderer's legislation, more than 60 specifically-identified firearms would be banned, along with any semi-auto centerfire or rimfire rifle with an overall length of less than 30 inches. Also banned would be "A conversion kit, part, or combination of parts, from which an assault weapon can be assembled if those parts are in the possession or under the control of the same person."
Testifying against the legislation was Aoibheann Cline, with the National Rifle Association. She cautioned the Senate panel that the bill would ban "millions" of rifles now owned by gun owners. She also insisted there is "no such thing as an assault weapon," which she insisted is a term created by anti-gunners to "scare Americans."
In 2019, Spokane County Sheriff Ozzie Knezovich essentially said the same thing about so-called "semiautomatic assault rifles." He said they do not exist.
Washington Democrats seem determined to push through as many gun control laws as possible this session, suggesting they may be afraid the party could lose enough seats this fall to shift power in at least one legislative chamber to Republicans. Growing disenchantment with Democrats, including Gov. Jay Inslee, could have the party getting nervous after being in control for the past few years while the economy has suffered, COVID-19 shutdowns stretched from Inslee's original two-week closure to "flatten the curve" to two years of restrictive activity including mandatory masking.
Inslee's firing of hundreds of state workers resulted in a transportation nightmare recently when all mountain passes were closed to traffic during periods of heavy snow.
There are some 30 gun-related bills on the table for this year's short session. Another measure seeks to undo Washington's long-standing preemption law, which places sole authority for regulating firearms in the hands of the Legislature. Seattle and other cities want to create their own gun control laws, thus bringing an end to statewide gun law uniformity.