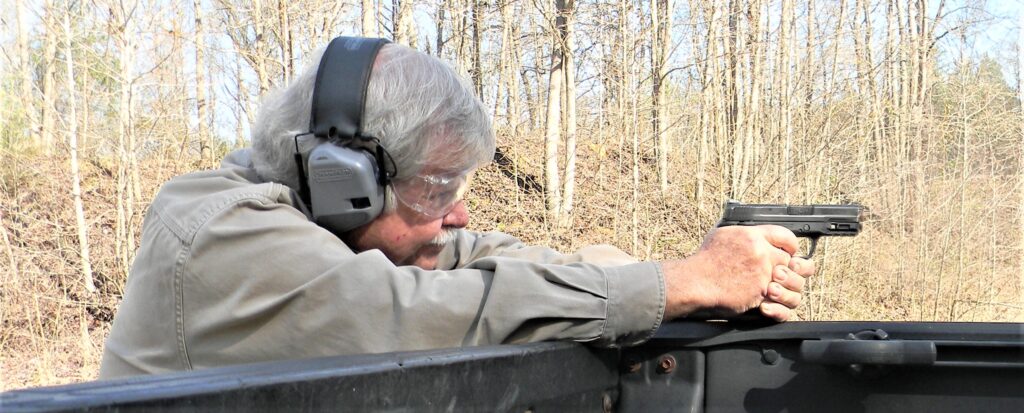 By R.K. Campbell | Contributing Editor
Who introduces a new handgun caliber in the middle of a shortage?
Smith & Wesson and Federal Cartridge. The cartridge is a true innovation and just may be what the doctor ordered by shooters troubled by recoil.
The .30 Super Carry is highly developed, well thought out, and reliable. The cartridge is a "strong .32" we may call it in simple terms. The .30 Super Carry, according to Federal Cartridge and Smith & Wesson, is made to offer an improvement over the .380 ACP and to offer less recoil than the 9mm. The cartridge seems to do just that.
The handgun chambered for the .30 SC is a proven platform with much to recommend. It's the Smith & Wesson Shield EZ Rack. This pistol is well designed and, in the examples I have tested, reliable and accurate. This isn't a micro pistol but a handgun that many would think is the ideal size handgun for personal defense.
Smith & Wesson's new pistol uses a polymer frame and steel slide. This is a single action handgun with an internal hammer concealed by the slide (reminiscent of the Colt Model 1903 and 1908 from an earlier era-ed.). The EZ Rack features an ambidextrous safety and a grip safety that prevents the pistol from firing unless the grip safety is pressed completely, and it is easy to load, rack, fire and manipulate.
The Shield EZ Rack features good sights, and cocking serrations fore and aft, along with humps on the rear of the slide that may be grasped to rack the slide. Long story short, the Shield EZ Rack is a nice handling pistol and is more accurate than one might think.
Smith & Wesson originally offered the Shield EZ Rack in .380 ACP. A subsequent upgrade was the 9mm Luger version, a neat package in America's most popular defense cartridge. Those who state all calibers are the same show a lack of experience or research, probably both. The 9mm is a realistic minimum and may perform well with modern JHP ammunition. It's a great round for shoe horning into compact pistols. Recoil is reasonable even in this small a handgun.
The .30 SC (Super Carry) is intended to give a person who cannot handle 9mm recoil or prefers something less difficult to control a viable alternative. The Shield EZ Rack holds ten cartridges in the magazine versus the eight shot 9mm. I prefer the 9mm and its eight rounds but I will not damn the .30 SC with faint praise. It is a viable alternative.
The pistol is as accurate as many larger pistols. So we have a really neat pistol with a slide that is easy enough to rack and which holds eight rounds in the magazine. The sights are good and the pistol seems trouble free.
I am not immune to recoil. I may fire a hundred rounds of 9mm in a session without discomfort. I may enjoy practice with the .45 but I will rub my wrists afterward. I guess that is average for most male handgunners with some experience. For those with arthritis or age- or sometimes youth and inexperience- as a limiting factor a lightweight 9mm may recoil more than we would think.
The problem is the next step down from the 9mm, and it is a big one. The .380 ACP simply doesn't cut it in personal defense in my opinion. It is your hide but I would recommend something heavier than the .380 ACP.
The .30 SC uses a 100-grain HST bullet in the Federal loading. Velocity is just over 1,200 fps, recorded over an RCBS Chronograph. Reliability is faultless. I like firing the .30 SC since recoil is more than the .380 but not the same jolt as the 9mm, although some of us may not be able to tell the difference. I may zip four rounds into the target in the time it takes to deliver three 9mms, but then a trained shooter who handles the 9mm well doesn't need this gun. Those who are physically challenged by age, arthritis, or other complaints will find the .30 SC viable. But the cartridge must have decent performance or it isn't worth a nickel. I fired the 9mm and .30 in a side-by-side comparison using water jugs to test penetration and expansion. These are my results:
9mm 124 grain HST .30 SC 100 grain HST
Velocity: 1180 fps 1204 fps
Penetration: 18 in. 20 in.
Expansion: .78 .66
I have also fired the 115-grain Gold Dot in limited testing. This load breaks 1,100 fps and penetrates a little deeper than the HST load while expanding about the same.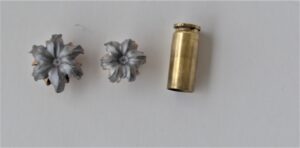 The .30 SC offers far more consistent penetration and expansion than the .380 ACP. It isn't a 9mm but then it is a good performer that does exactly what it was intended to do. After having several other shooters fire the pistol I find that every shooter is left with a smile on their face.
If you have a problem with the 9mm and recoil, this caliber is a neat trick. I also find it may be suitable for outdoors use, which wasn't a design parameter. A light and accurate high speed .30-caliber round that outperforms the .32 Magnum will be a viable choice for defense against coyote and all but the largest feral dogs. This hot little cartridge is interesting and may be a good choice for more chores than originally envisioned.