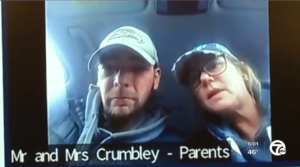 The parents of accused Michigan school shooter have each been charged with four counts of involuntary manslaughter, described by Oakland County, MI Prosecutor Karen McDonald as "the strongest possible charge we could prove."
The announcement came Friday and was covered live by Fox News.
James and Jennifer Crumbley—parents of 15-year-old Ethan Crumbley, now charged with murder, terrorism and other crimes in connection with the fatal shooting at Oxford High School in Oxford Township—had been called to the school hours before the shooting by authorities. McDonald said the charges are "intended to hold individuals who contributed to this (tragedy) accountable."
A teacher had spotted a drawing on the teen's desk that was so alarming she photographed it, McDonald told reporters. Later, when the suspect was brought to the counseling office, parts of the note had been altered. Still, the teen, a sophomore, was allowed to return to the classroom. His parents did not remove him, nor did they search the backpack, McDonald said.
McDonald, a Democrat, once again used the press briefing too call for stricter gun control laws.
The elder Crumbley purchased the pistol, a 9mm Sig Sauer SP2022 at an area gun shop on Black Friday. McDonald said the teen was with his father at the time. Later Ethan Crumbley posted an image of the pistol online saying it was his gun.
The prosecutor said allowing the teen to have access to a "deadly weapon…is unconscionable."
She insisted supports gun ownership, explaining that while people have a right to own guns, they must also own them responsibly.
Four students were killed and seven others were wounded in the attack. Authorities recovered some 30 empty cartridge cases and three magazines plus the pistol during their investigation at the school, after taking the suspect into custody. Lawmen were on the school within five minutes. According to Fox News, the teen still had 18 rounds of live ammunition.
Michigan's Democrat Attorney General Dana Nessel is also calling for stricter gun control laws in the aftermath of the shooting.
Nessel, according to Fox News, said "reforms" are overdue.
"It's time for us to reevaluate the laws that we could be potentially putting in place that could have stopped this from happening. Child access prevention laws, that's the kind of thing we need to be doing in Michigan," Nessel said.
According to WWMT, the attorney general said she favors "Child Access Prevention" (CAP) laws, which require so-called "safe storage" of firearms to keep them away from children. But the suspect, Ethan Crumbley, is not a child, but a 15-year-old who has been charged as an adult with one count of terrorism, four counts of first-degree murder, seven counts of attempted murder and a dozen counts of possession of a firearm during the commission of a crime.
WWMT quoted Nessel, who bristled, "Because I believe that many that many legislators have been bought and paid for by the NRA and by the gun lobby. and that literally even the most minor common sense law that the vast vast majority of Michigan residents strongly support and approve of is deemed to be somehow anti-gun rights. and i don't think anything could be further from the truth. We are not stopping adults who are legally able to purchase weapons. from buying a weapon from possessing a weapon to having a weapon in your home we are just saying they have to be stored safely and securely. That's it!"