By Dave Workman | Editor-in-Chief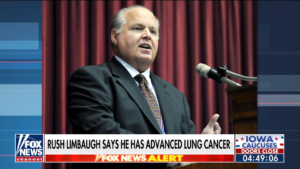 Throughout his decades-long career as a radio talk host and conservative icon, Rush Limbaugh defended and promoted the Second Amendment right to keep and bear arms.
Limbaugh died Wednesday, Feb. 17, following a long battle with lung cancer. He was 70.
In the aftermath of the tragic school shooting in Parkland, Florida in 2018, Limbaugh urged then-President Donald Trump against any compromise with Democrats on gun control.
"President Trump, don't start talking to them about guns," Limbaugh said on the air. "Don't start negotiating with 'em about that."
The remarks were reported by Fox News.
Politico noted Limbaugh "called for concealed carry in U.S. schools…in response to the deadly shooting at a Florida high school that killed 17 and injured several others."
Limbaugh was honored in 2020 when Trump awarded him the Presidential Medal of Freedom, the highest civilian honor. Limbaugh was in the gallery during Trump's final State of the Union address when the president announced the award. First Lady Melania Trump placed the medal around his neck in an emotional moment.
As noted in the Conservative Firing Line, "In the Pacific Northwest, Limbaugh will be remembered as the guest at a gubernatorial campaign event for then-Republican candidate John Carlson, who took a break from his job as a talk radio host to run against liberal Democrat Gary Locke. After it was announced that Limbaugh would attend the Carlson rally, the location was moved to the Puyallup fairgrounds and between 35,000 and 40,000 people attended, making it the largest campaign rally in the history of Washington state."
According to CNN, Limbaugh was "the conservative media icon who for decades used his perch as the king of talk-radio to shape the politics of both the Republican Party and nation."
He led an army of conservatives who called themselves "Ditto Heads." He would infuriate liberals by attacking and dismantling their policies, quoting their embarrassing and often hypocritical comments, and declaring that he had "talent on loan from God."
Limbaugh had more than his share of critics who didn't like his conservatism, nor the influence he seemed to wield in the political arena.
Writing at Fox News, former White House press secretary Kayleigh McEnany observed, "Rush was a giant in the conservative movement for a reason: he exhibited unrelenting boldness for the truth. He never backed down. You knew where he stood. And he was never, ever afraid to speak truth to power and challenge the mainstream media."
Former President Donald Trump, quoted by the Daily Caller, recalled Limbaugh as "a fighter."
"You know his fight was very, very courageous and he was very, very sick," Trump stated. "He was very brave. I mean he, in theory, could have been gone four months ago, really. He was fighting until the very end."