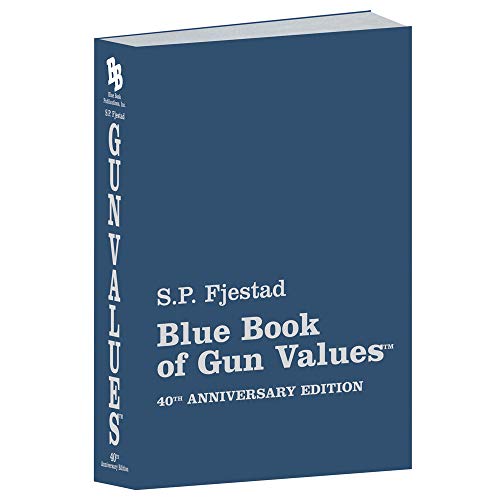 Edited by S. J. Fjestad  Published by Blue Book Publications, Inc., Dept. TGM, 8009 34th Ave. S, Suite 250, Minneapolis, MN 55425.  Price:  $59.95 for standard softcover, or $80.00 for limited edition hardbound.  Available direct, bot Gun (800-877-4867 or Bluestocking), at Amazon, or various bookstores.
This 2,512-page, three pounds, twelve and one-half ounces (on a postal scale) volume not only marks the 40th Anniversary, but it also serves as a fitting memorial to the late S. J. Fjestad, who created this terrific guide. The softcover is an appropriate blue in color, with the title, etc. silver-colored.
This gem of a book has a Table of Contents with just over forty listings from the title page to P.S. The first 144 pages are devoted to general information, including How to Use This Book, a glossary, abbreviations, acknowledgments, a list of firearms museums, and eighty pages of full-color photos of handguns and long arms, plus cover shots of the previous 39 BB editions. This full-color section—called the PPGS, or Photo Percentage Grading System—features a color photo of a specific handgun, rifle, shotgun, etc., with a paragraph or more of description, and often a dial illustrating the percentage of original finish remaining. (This PPGS section is excellent, but as with any tome of this type there are bound to be some errors. Example: On page 66 showing a Wyoming Arms Parker Model .45 it compares it to the ' SIG P210 on the preceding page.' The gun on the preceding page (65) is a Cabot Gun Company LLC Black Gold Model .45, M1911-type, not a SIG P210. Interesting!)
The bulk of this tome begins on page 145 starting with 2 VETS ARMS CO., LLC and ending on page 2380 with ZOMBIE DEFENSE.
For example, a Mossberg Model 500 Watchdog, discontinued in 2017, originally retailed for $460. With 100% original camo finish it is BB listed at $395.
The remainder of this volume, starting on page 2381, features some extremely useful material. Featured are a Trademark Index, a long list of Reference Sources, the handy Store Brand Cross-Over List, a listing of serial number ranges for several manufacturers, proof marks, a BATFE guide, show time, and the important Index.
Is every model of every arms manufacturer listed? No! This reviewer couldn't find several known models, or even their manufacturer. It doesn't mean they were not listed, just that this reviewer couldn't find them. Vincent Bernardelli manufactured a line of excellent quality side/side shotguns which were imported by Stoeger Arms prior to WWII, and later. (Stoeger's 1955 Shooters Bible has three side/side shotgun models detailed, plus autoloading pistols in .22, .25, .32, and .380 calibers. VB produced a few pistols in 9mm, and at least one model of autoloading shotgun.) The /firm is listed, but no arms, although the information late may be available on line at bluebookofgunvalues.com.
This 40th Anniversary Edition of the Blue Book… is the best of its type available, and a great memorial to its late editor, S.P. Fjestad. It definitely deserves space on the bookshelf of any serious person, male or female, interested in firearm values.