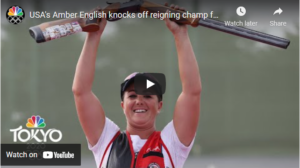 U.S. shooters Amber English, Vincent Hancock and Will Shaner collected the gold this week at the 2020 Olympic Games in Tokyo, and best part about it, Americans did get to watch even though The Guardian reported "very few American journalists were present" for the events.
NBC Sports was there, as confirmed by this video posted at YouTube. It shows English in great shooting form, edging out Italy's Diana Bacosi in what could be called a "nail-biter" of a finish. She missed only four targets for 56 hits against Bacosi's 51 connections.
Hancock only missed one target, scoring 59 hits, out-shooting Denmark's Jesper Hansen, who broke 55 targets.
Shaner took gold in the men's 10-meter air rifle event, setting an Olympia record with 251.6 points.
These successes didn't come easy, but they underscore the fact that shooting is part of the American fabric, and a tradition that isn't going to be overshadowed by the current uptick in violent crime that has been getting most of the headlines anywhere but on the sports page.
In its coverage of these gold medal wins, The Guardian recalled a 2016 tweet from bombastic Brit Piers Morgan, who observed at the time, "LEAST SURPRISING BREAKING NEWS EVER: America's 1st Olympic Gold Medal is for Shooting." There was spirited disagreement over whether the comment was a troll or a good-natured quip, but the fact remains that the United States is widely perceived by foreigners as a cross between a gangland and the Old West, and headlines of late haven't done anything to correct that image.
Shooting skeet at the levels displayed by English and Hancock is no small feat. That's amplified by the fact this is Hancock's third gold medal win (2008 and 2012 were his previous victories), and for English—a 1st Lieutenant in the U.S. Army—it was a record-setting performance as well.
Hancock is a four-time world champion shooter in addition to winning three Olympic gold medals, according to Team USA.
English is ranked No. 24 in the world, Team USA said. She is a member of the U.S. Army's World Class Athlete Program, and this was her first appearance at the Olympics. Pretty hard to beat taking the gold first time out of the gate.
The success of these Olympics shooters throws a positive light on firearms and people who use them. Across the country, one will find almost weekly competitions involving modern sporting rifles, muzzleloaders, handguns and shotguns.
Whether people use firearms for hunting, home defense, predator control, competition or a variety of reasons, in the U.S. they are here to stay.