by Joseph P. Tartaro
Executive Editor
Many years ago at a gathering of veteran pro-gun activists, old-timers shared their concerns about the aging of the pro-gun leadership. Many wondered whether younger Americans, with such different experiences, interests and backgrounds, would be ready to man the barricades to defend firearms civil rights.
Today we can report from observations at ranges, gun shows, NRA annual meetings and Gun Rights Policy Conferences that many young adults are embracing and promoting the Bill of Rights, and especially the right to keep and bear arms.
But it's still tough communicating from one generation to another, so it is noteworthy when younger defenders of the Second Amendment speak to younger generations in the shared language of modern music. That's one reason I found the new all-American rock group, Madison Rising, intriguing.
While the first 2011 album from these patriotic balladeers may surprise some older gun owners, the lyrics and motivation behind their classic hard rock music would gladden the hearts of historic patriots such as Thomas Paine, Patrick Henry, Thomas Jefferson and Harlon Carter—maybe even Ted Nugent.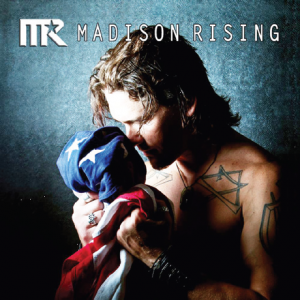 The name of the group says a lot: Madison—for President James Madison, author and key sponsor of our Bill of Rights—and Rising—to indicate that this most influential Founding Father's concepts of liberty are in the ascendancy once again in an era when personal liberty is put to the test daily.
Madison Rising can be considered troubadours of liberty. Their songs deal not just with the gun rights but with other issues—patriotic military service to media bias and the current rage for political correctness in public discourse.
"We wanted to share our views with all Americans, particularly young Americans, and it seemed the best way to be heard was through our music," Chris Schreiner, the lyricist and lead guitarist, told us in a phone interview.
Schreiner and the rest of the group are professional musicians. He and lead vocalist Dave Bray visited with TGM in a conference call.
Schreiner, who hails from Connecticut, is a graduate of the prestigious Berklee College of Music. He was a finalist in the 2009 Guitar Player Magazine's Superstar Competition. Renowned for his nuanced arrangements and musical acumen, he produced a track for ESC record's 2010 release featuring Steve Vai, Billy Cobham and Nels Cline.
Bray was born in Yorkshire, England, to American parents while his father worked for the NSA. His family relocated to Jefferson, PA, when he was five, a region that placed him close to firearms at an early age. Bray served in the US Navy for four years as an FMF corpsman for the 2nd Battalion 2nd Marines.
After leaving military service, Bray became the lead singer of the bands 1Echo1 and Soveren prior to becoming the front man for Madison Rising.
Award winning guitarist composer Schreiner received his first rifle at age 8, a year before his first Christmas gift guitar. He said he loves shooting anything, but his current handgun favorites are a 9mm Sig P228 and a Beretta 89 Target .22.
"I enrolled in IDPA competition to prove that my marksmanship is on the same high level as my guitar playing.
Bray says that "growing up in rural Pennsylvania, other than church, sports, dirt track racing or hard work, we really didn't have a ton of things to do. I went with hunting, fishing and music.
"I can still remember shooting my first handgun, a service revolver, and how cool I thought it was. I was only about 9 or 10!" While attached to a platoon of the 2nd Marines out of Camp Lejeune, Bray got his first taste of shooting what he calls "real weapons." These most commonly included the Beretta 9mm, the M16 with M-203 grenade launcher and the USMC M40A1 sniper rifle.
After getting out of the military, Bray focused on music and recorded over 30 songs with various musicians over the years. Now a husband, a father of two boys, a homeowner, a proud gun owner and the singer for Madison Rising, Bray said, "I believe that it should not only be the right, but the duty, of every father to protect their children, their family and the perimeter of their home." TGM did not get to speak with other musicians in the group. Also on guitar is Alex Bodnar, who has been a guitarist for a variety of elite musical acts including as lead for Utada Hikaru (Japan's all-time number one selling female artist) and Creed front man Scott Stapp as part of the Scott Stapp Band. Alex has toured the world performing for tens of thousands of American military personnel, so the band's support for America's military men and women is no surprise.
The drummer is Sam Fishman. As a child Fishman could not resist playing a beat on anything in site, so it is natural that he dedicated his life to the art of percussion, making big sounds with a musical instrument or firearm.
He is a recent graduate of the Eastman School of Music.
Finally, at bass there is Steve Padelski, whose parents gave him his first bass guitar at the age of 12, and by 14 he was jamming with his first band.
The band's "Madison Rising" has already ranked in the top 100 selling rock albums on Amazon and iTunes and has legions of dedicated fans all over the country, fans that get the messages the group communicates. The album has received overwhelmingly favorable reviews on various websites and social media, but the band is facing serious hostility and discrimination as they strive to make their way through the ultra-liberal entertainment industry with a pro-liberty, pro-military message. Some liberals have charged that their music and lyrics are "propaganda" for conservatives.
Major magazines refuse to publish stories bout them and despite national headlines and album sales success they have been shut out by most of the booking agents and promoters.
Still, Schreiner's passion and interest in the gun-rights issue extend far beyond his membership in the NRA (Bray is also a member). Last year, Schreiner's 31-year-old cousin was shot and killed on his way home from work by a 16-year-old with an illegal handgun. Yet Schreiner clearly understands the difference between rights and responsibilities.
For more information on future concerts and tour dates (they expect to be in Texas in June), new recordings or more background information, contact: Purple Eagle Entertainment, 130 W 42nd St., Suite 802, New York, NY 10036; or visit their website: MadisonRising.com