by John Markwell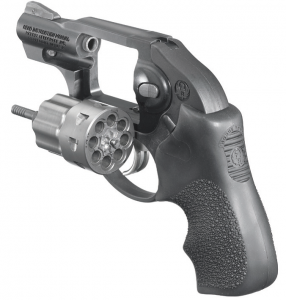 Contributing Editor
The annual SHOT Show is the place to be if one wants to see the new and unique gear offered by the outdoor trade every year. The second best place to be is the annual NRA exhibits where many of the new products are also on view.
After walking quite a few miles over four days at the SHOT Show in Las Vegas here are some of the items that we thought might be of interest to TGM readers.
Targets: More and more folks are shooting at long range (past 500 yards) these days and steel targets simplify the process greatly. We found three new (to us) target manufacturers offering self re-setting targets. If you're looking for rifle compatible steel targets for your range here are three outfits to look at. Take Aim Targets (tacticaltargetstore.com) offers both swinger type targets and electronic self-setting models. Off The Grid (otgmetalworks.com) offers a unique spring-activated silhouette with reactive self re-setting plates in the head and body. Strikemark Targets, (strikemark.com) has a battery powered self re-setting target with the option of six different target plates. The beauty of shooting steel, at any distance, is that the only thing needed for target maintenance is a can of spray paint. Even out to 1,000 yards hits are easy to spot with a good spotting scope.
Knives: There are a bunch of knife companies out there. We found two that really stood out at SHOT 2012. We first found Silver Stag (silverstag,com).
This company is unique in that it uses shed antlers for all of the handle material on their knives. They will also use customer supplied antler material on custom orders. What a nice way to get an heirloom with personal memories of a past hunt! Silver Stag offers fixed blade knives in both D2 and Damascus steel. New this year is their line of elegant folding knives. Reasonably priced and nicely finished, these knives are really worth a look.
The second knife producer we were really impressed with (so much so, we purchased one of their knives on the spot) was Arno Bernard Knives (arnobernard.com) from South Africa.
Using Bohler N690 stainless steel from Austria the Arno Bernard fixed blade knives are hollow ground freehand, nitrogen heat treated to 60 Rc in house, and are beautifully finished. Sized and appropriately named for many of Africa's animals, there is a blade size and shape available to meet most any need.
Handle materials available include Warthog tusk, giraffe bone, sheep horn, mammoth tusk and an assortment of exotic woods.
Rifles: The folks at Mossberg (mossberg.com) introduced their new .223 Rem. MVP, or Mossberg Varmint Predator, at SHOT 2012. This rifle feeds ammunition from standard AR15/M16 magazines. Bolt guns with high capac capacity detachable magazines have become all the rage in the last few years and building a varmint rifle that takes the ubiquitous AR magazine is a brilliant idea. With its adjustable trigger, spiralfluted bolt, 24-inch button-rifled 1 in 9 inch twist barrel, pre-mounted Weaver 4-16x50mm scope, and laminated stock, this is one impressive varmint rifle.
While visiting with Dwight Van Brunt at the Kimber booth (kimberamerica.com) we were totally wowed by the new 84M Mountain Ascent rifle.
Weighing only 4 pounds 13 ounces, when chambered in .308 Winchester, this has to be one of the lightest factory sporting rifles ever produced. Weight is reduced by fluting the bolt body, barrel, and bolt handle and through the use of a Kevlar/carbon fiber stock. Available in .308 Win., .270 Win., .280 Ack. Imp., and .30-06 Springfield, the Mountain Ascent will be a welcome addition to the weight conscious hunter's battery.
The folks at Thompson Center (tcarms.com) were showing off their new Dimension switch barrel rifle. By changing out the barrel, magazine and bolt the Dimension can be switched to any of 10 different calibers from .223 Rem. up to .300 Win. Mag. The Dimension has a polymer stock with spacers to adjust the length of pull, feeds ammunition from a three-round detachable magazine and has an aluminum receiver. The barrels have TC's 5R rifling, and the trigger is adjustable from 3½ to 5 pounds.
Forbes Rifles LLC (forbesrifle.com) is offering a production version of Melvin Forbes' famous New Ultra Light Arms bolt-action rifles. This 100% US-made rifle uses a CNC-machined 24B action.
The barrel is a #2 profile 24 inches long. The trigger is adjustable and the stock is made of the NULA proprietary aerospace composite. Many folks have flinched at the price of a NULA rifle, which is about $3k. Now there is a $1400 option. Initially, these rifles will only be available in cartridges that fit a standard action, .270 Win through .300 Win. Mag. Other action sizes are planned. Weight of the Forbes rifle averages 5.25 pounds. We own a NULA Model 20 rifle and in handling the new Forbes Rifle we could discern little difference between the two.
Handguns: Colt has re-introduced their .380 Mustang pocket pistol. With its aluminum frame and stainless steel slide, this mini Government model fires from a locked breech. Capacity is 6 plus 1 and the 12.5 ounce weight will not weigh one down. (colt.com) We were pleased to see the new 22LR revolvers introduced by Ruger (ruger. com). The LCR 22 will be welcomed by those who carry one of the center fire LCRs for personal protection. We have always been big believers in the use of 22s as understudy guns for training and practice and the new .22-caliber LCR certainly will fill this niche nicely. The new SP101 in .22LR is another nice addition to the Ruger line-up of revolvers. For those shooters needing a rimfire handgun for plinking or field use, this stainless steel revolver, with its 4.2-inch barrel and 8-shot capacity, should prove to be a solid performer.
Ammo: There was no shortage of new ammunition at SHOT but a couple of new loads from Winchester (winchester.com) really sparked our interest. The Razorback XT loads in .223 Rem. and .308 Win. are designed specifically for hunting wild boar. New to the DDX Defender line is a .22 Win. Mag. rimfire cartridge. This cartridge has a muzzle energy exceeding that of the .32 ACP when fired from a 4-inch revolver barrel.
The folks at Barnes Bullets (barnesbullets.com) expanded their VORTX ammunition line to include the .300AAC Blackout with a 110-grain bullet as well as the .35 Whelen 180-grain load. For handgunners Barnes has added a 250-grain load for the .454 Casull.
Hornady had three interesting additions to their Varmint Express line: the 17 Hornet featuring a 20-grain V-Max bullet, a .222 loading with a 35 grain NTX bullet, and a 15.5 grain NTX load for the 17Mach2 rimfire.
We could go on and on reviewing products from SHOT 2012 but space will only permit so much. Watch future issues of TGM for more on new products from the shooting industry. Good shooting!