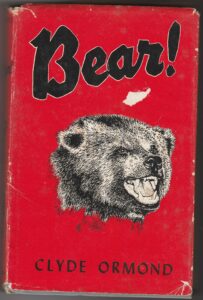 Bear!
By Clyde Ormond
Available from:
National Book Network
15200 NBN Way
Blue Ridge Summit, PA 17214
Hard cover 291 pages
Price: $19.95 plus shipping
Bear! is veteran outdoorsman Clyde Ormond's epic treatise on all four varieties of North American bears, the black, grizzly, brown, and polar bears.
The first edition was published in 1961.
Each type is individually covered with range, habits, and the various ways of hunting them.
Clyde Ormond was a famous outdoor writer in the 1940's through the 1960's. He possessed a wealth of knowledge and experience with bears which he has endeavored to pass along in this book which is the culmination of 30 years of research.
The thorough description of all the methods of hunting bears across the United States, Canada, and Alaska are of immense value to the serious hunter. There is a section on the various weapons used and their relative effectiveness along with a huge compilation of bear stories from across the North American continent that illustrate the broad range of bear behavior.
A circus bear trainer once told me that no one, not even the bear, knows what a bear is going to do next. You begin to realize that if you study enough incidents.
Bears can be harmless, clowns, menacing, or deadly. Just like human beings. They are individuals and there are no hard and fast rules that you can apply to each one across the board.
This book offers a fascinating insight into every aspect of bears and bear hunting. There is even a chapter devoted to skinning and saving the trophy; a vital part of any trophy hunt that gets all too little attention in print.
Even the most experienced bear hunter will find this a worthy and enjoyable addition to his library.—Jim Dickson