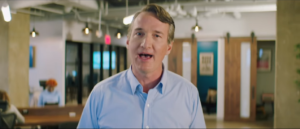 By Dave Workman
Editor-in-Chief
Virginia anti-gunners are "scared to death" that gun owners in the Commonwealth will turn out at the polls next month to prevent the election of Democrat Terry McAuliffe as governor, so the Virginia Citizens Defense League is declaring, "We must all vote, vote early and vote in person!"
The race is heating up as former UN Ambassador Nikki Haley's advocacy group Stand for America, has released a new ad campaign blasting McAuliffe for suggesting parents should not "have a say in what schools are teaching their kids," according to Fox News.
But it could be the "gun vote" that makes a difference Nov. 2 because Virginia gun owners know McAuliffe's gun control history.
In an email alert, VCDL is also alleging that "so-called dark money" is being used "to suppress gun owner turnout!"
A report at Axios.com, "A group tied to prominent Democratic strategists is posing as a conservative outfit to try to drive a wedge between the Republican candidate for Virginia governor and his core voters." Axios.com has reportedly spent more than $25,000 on advertising on this subject, and those ads have been viewed "between 1 million and 5 million times."
The advertising is reportedly the work of the Accountability Virginia PAC. It is receiving funding from different sources and ActBlue, which helps raise money for Democrats and "progressive causes," is also helping raise money for the PAC, according to TheReload.com.
Republican newcomer Glenn Youngkin has not returned a National Rifle Association survey, so the group has not endorsed him.
What is at stake in Virginia is not just the gubernatorial race, but something of a referendum on the Joe Biden administration. Northern Virginia is heavily Democrat, and two years ago when far too many gun owners sat out the 2019 legislative election, Democrats took over in Richmond, passing some restrictive gun control laws and turning back the clock to when local governments could adopt their own gun laws, effectively gutting state preemption.
Should Youngkin and Republicans capture the capitol, that could all be reversed in January. And it would also send a message that Biden's unpopularity is dragging Democrats down at the state level.
VCDL acknowledges in its email, "It is very frustrating that Youngkin has not returned his VCDL survey—he needs to return it if he wants to be considered for endorsement by VCDL-PAC."
So, according to VCDL, anti-gunners are using this as a means to drive a wedge between Youngkin and Virginia gun owners. Will the gambit work? That will be determined Nov. 2.
In the meantime, every gun owner in the Old Dominion is being encouraged to vote. In 2019, only about 40 percent of the commonwealth's eligible voters bothered to cast ballots. That is not likely to happen again, as gun owners want payback, and they already know McAuliffe's position on guns. When he was governor four years ago—nobody can serve consecutive terms as governor in Virginia—he supported gun control. He has not changed his position.
Youngkin's lack of endorsement by the NRA made news back in July when the Richmond Times-Dispatch initially reported it.
Recent polling has shown Youngkin and McAuliffe in a virtual dead heat, so the election could go either way. In January 2020, thousands of gun owners descended on Richmond to oppose the Democrats' gun control package. Democrats ignored the turnout and adopted anti-gun laws, anyway. Second Amendment activists want payback and they want to return Richmond to GOP control.