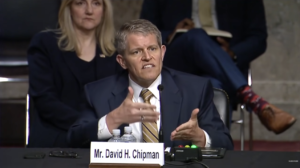 By Dave Workman
Editor-in-Chief
The White House will withdraw the nomination of David Chipman, the retired federal agent-turned-gun-ban-advocate, to head the federal Bureau of Alcohol, Tobacco, Firearms and Explosives, bringing cheers from the Second Amendment community.
For President Joe Biden and his gun control allies, it is a major defeat in an arena in which the anti-gun Democrat had previously boasted his dominance. Fond of telling audiences he "beat the NRA twice" and would do it again, this time around he lost.
The New York Times reported, "The selection of Mr. Chipman, a longtime A.T.F. official who served as a consultant to the gun safety group founded by former Representative Gabrielle Giffords, provoked a powerful backlash from the National Rifle Association and other pro-gun organizations who cast his confirmation as a threat to their Second Amendment rights."
Alan Gottlieb, chairman of the grassroots Citizens Committee for the Right to Keep and Bear Arms, told TGM in a short conversation that he was proud of the grassroots activism that helped derail the nomination. He gave credit also to other gun rights groups for helping energize gun owners nationwide.
"I want to thank every gun owner and concerned voter who contacted their Senators and helped us stop this dangerous nominee from being confirmed," Gottlieb said in a prepared statement. "This is a great grassroots victory for the Second Amendment. Gun rights lobby 1, Biden gun ban lobby zero!"
Gottlieb's glee was justified. In May, responding to Chipman's nomination, the CCRKBA chief said in a statement, "Out of all the potential candidates to lead the agency, Joe Biden has picked the one individual whose nomination was guaranteed to ignite a political firestorm. At this point, it is fair to question why the president has done this. It looks like the president wants to put the gun prohibition lobby in charge of firearms regulation and enforcement."
That sentiment was widely shared by Second Amendment advocates who saw the nomination as nothing short of a declaration of war on gun owners by the Biden administration.
"This critical win is thanks to NRA members who flooded their senators' offices with texts, emails, letters and phone calls voicing their opposition to Chipman's nomination. Because of their swift action and ongoing opposition over the past several months, the radical gun control advocate will not sit at the helm of the ATF," said Jason Ouimet, executive director, National Rifle Association Institute for Legislative Action. "For now, gun owners can rest assured the most immediate threat to their rights has been defeated, and gun control proponents have suffered a huge setback."

By no surprise, anti-gunners are in a snit. David Hogg, the high-schooler-turned-gun banner tweeted, "This is a win for gun traffickers and extremists like those of your party who attempted to overthrow the US government on January 6th. If we want to protect Americans- including gun owners like my father we need to crack down on interstate trafficking and illegal production."
But Senate Minority Leader Mitch McConnell had a decidedly different take:
"Glad to hear reports the White House is taking my advice and pulling the terrible nomination of David Chipman. Absurd that a vocal opponent of Americans' constitutional rights was ever picked to run ATF. This is a win for the Second Amendment and law-abiding American citizens."
According to the New York Times, White House officials have been "discussing the possibility" of naming Chipman to an advisory role in the administration. In such a position, Chipman would not face Senate confirmation.
"The administration has no immediate plans to appoint a new nominee, according to a person involved in the process who requested anonymity because they were not authorized to speak about the matter publicly," the Times reported.
Quoted by Fox News, Sen. Chuck Grassley (R-IA), ranking member on the Senate Judiciary Committee, observed, "Mr. Chipman's long record as a partisan, anti-Second Amendment activist raised plenty of concerns about how he'd administer federal firearms laws. But that wasn't the only cause for concern. The record he concealed from Congress, some of which remains hidden to this day, about how he treated his fellow employees while at the ATF confirms his lack of fitness to lead the agency."
Chipman's nomination was likely doomed because at least three Senate members—Democrats Joe Manchin of West Virginia and Jon Tester of Montana, along with Independent Angus King of Maine—were holdouts. With the Senate split 50-50 (King caucuses with the Democrats), even one defection would derail Chipman.
CNN quoted an unidentified "senior administration official" who admitted, "We do not have the votes. We will land him in a non-confirmed job in the administration."