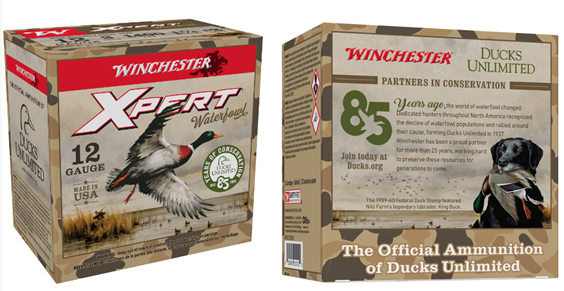 Winchester celebrates 85 years of conservation excellence with its new Ducks Unlimited (DU) limited edition ammunition, available this fall.
"As the official ammunition of Ducks Unlimited and one their most longstanding supporters, Winchester remains steadfast in its commitment to conservation and wildlife habitat projects across North America," said Matt Campbell, vice president of sales and marketing. "Ducks Unlimited volunteers continue to do excellent work for the betterment of waterfowl populations."
In 1937, amidst the great depression and one of the worst droughts in history, a small group of visionaries came together to do their part to protect wetlands and the waterfowl that depend on them. Through the united efforts of sportsmen and women across the continent since then, 15-million acres of habitat has been restored and protected, benefitting hundreds of species of wildlife and providing untold recreational enjoyment for all. 
Through innovative science, generous giving, and a committed network of volunteers, Ducks Unlimited has become the largest wetlands and waterfowl conservation organization in the world. Corporate partners like Winchester Ammunition, have played an important role in helping support this vital conservation work. Winchester continues to direct a significant amount of funding towards critical habitat projects each year, and hunters can help give back as well through the purchase of Winchester ammunition products. 
The limited-edition Winchester XPERT steel waterfowl load is available in 12-gauge, 3-inch shells with a 1-1/4 ounce payload of number 2 shot, traveling 1,400 feet per second. The 85th anniversary packaging is loading now and will be available for waterfowl hunters for the 2022-2023 waterfowl season.