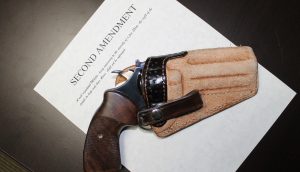 A coalition of 17 state attorneys general has joined a federal lawsuit challenging Biden administration rules that allegedly violate the Second Amendment by regulating unfinished, non-functional firearm components the same as finished firearms.
The legal action was filed in U.S. District Court for the District of North Dakota. The case is known as Morehouse Enterprises, et.al. v. ATF.
Plaintiffs in the legal action are Morehouse Enterprises,LLC, Gun Owners of America, and Gun Owners Foundation. Attorneys general now participating in the lawsuit are those in Alaska, Arizona, Arkansas, Idaho, Indiana, Kansas, Kentucky, Louisiana, Missouri, Montana, Nebraska, Oklahoma, South Carolina, Texas, Utah, West Virginia and Wyoming.
According to the complaint, plaintiffs are seeking a preliminary injunction "to preserve the status quo," followed by a declaratory judgment and permanent injunction restraining ATF from enforcing various parts of an omnibus rule scheduled to take effect Aug. 24.
The complaint also alleges the federal Bureau of Alcohol, Tobacco, Firearms and Explosives would have firearms retailers retain their sales records beyond the current 20-year limit, essentially leading to a de facto gun registry.
According to Montana Attorney General Austin Knudsen, one of the AG's joined in the lawsuit, "This rule infringes on every American's right to assemble firearms for their own use – a long-held tradition dating back to the founding of our nation. Criminals will ignore this rule and it will not make Montanans safer. It will, however, shut down firearm companies, allow the government to end online sales of parts, and expand federal access to gun owner data – all without congressional approval."
In a prepared statement, Knudsen's office asserted, "If allowed to go into effect, the rule could force firearm manufactures to reduce their workforces or even close their doors. The ATF itself estimated its regulation would shutdown 35 businesses at a cost of $1.1 million. However, the economic costs and burden will likely be much greater: hundreds of millions of dollars of sales could be lost and thousands may lose their jobs if the final rule takes effect."
A news release from South Carolina Attorney General Alan Wilson, quoted by WDPE, said the rulemaking "threatens the privacy of every gun owner in the country."