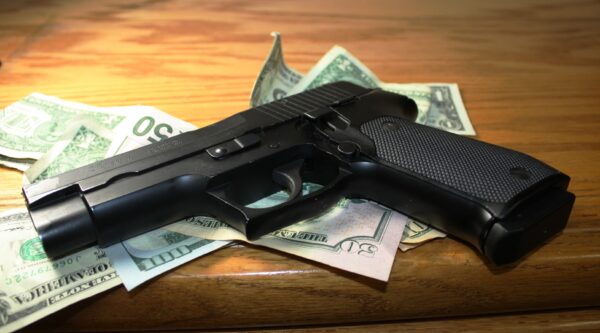 The National Shooting Sports Foundation reported this week that 2022 saw more than 16.4 million background checks completed for the sale of firearms, providing proof that "while retail sales of firearms were lower than the record shattering years of 2020 and 2021, there continues to be a strong desire from law-abiding Americans to purchase the firearms of their choice."
According to NSSF Public Affairs Director Mark Oliva, "This trend is similar to that of what NSSF has witnessed in the past. When a new ceiling is reached on background checks for retail gun sales, the market settles to a 'new normal.' That new normal typically exceeds what the trend line of what was seen before the spike. In this case, there were nearly 13.2 million before the 2020 and 2021 spike. The 16.4 million figure shows that the industry continues to meet a signal from the today's gun buyers."
The continued healthy sales coincide with an increase in the number of concealed carry licenses and permits across the country, despite the adoption of so-called "constitutional carry" laws by 25 states. These permitless carry statutes allow citizens to go armed without the necessity of a license, although they must still have such a document if they plan to carry in another state that recognizes licenses/permits from their home state under a reciprocity agreement.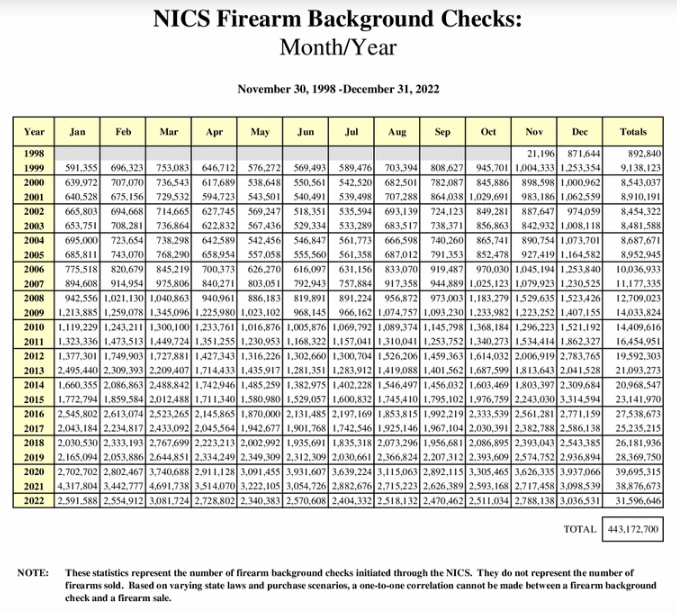 According to the FBI's final raw data report on background checks initiated last year, there were 31,596,646 NICS checks, which was down from the 38,876,673 checks in 2021 and the record-setting 39,695,315 checks in 2020. As noted by the FBI, these are raw numbers that do not represent the number of firearms actually sold. NSSF publishes a monthly "NSSF-adjusted" number on NICS data, which more closely reflects actual gun sales.
According to Oliva, "Though not a direct correlation to firearms sales, the NSSF-adjusted NICS data provide an additional picture of current market conditions. In addition to other purposes, NICS is used to check transactions for sales or transfers of new or used firearms."
For example, the December adjusted number of background checks was 1,747,506, translating to a 2.5 percent decrease from the same month in 2021, when the adjusted figure was 1,792,797. According to the FBI chart, last month saw a raw NICS count of 3,036,531 initiated background checks, although NSSF says the unadjusted FBI number for December 2022 was 2,995,715.
According to NSSF, "The fourth quarter 2022NSSF-adjusted National Instant Criminal Background Check System (NICS) figure of 4,532,341 reflects a decrease of 4.9 percent over the 4,763,439 figure for fourth quarter 2021.
"The 2022 annual adjusted NICS total of 16,425,484 represents the third highest year on record, exceeded by 2020 and 2021 respectively," NSSF said.