by Dave Workman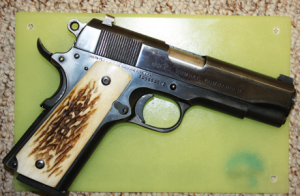 Senior Editor
A quarter-inch-thick vinyl pad impregnated with fluorescent crystals that remains luminous in the dark just might become a life-saver if a home-invading burglar or rapist comes calling in the middle of the night.
It's the Gun Pad from Wiggy's Inc. in Grand Junction, CO, and when TGM put this thing to the test, it worked.
This product is the brainchild of Jerry "Wiggy" Wigutow, and the Gun Pad may be one of those ideas that is long overdue in the home defense market. When the temperature warms, it softens up and may be bent to shape around something, or slide it into the drawer of a nightstand next to a bed. It is drilled in all four corners for wall mounting, and it can even go along camping for use inside a dark tent.
Quite simply, the Gun Pad is designed as a non-scratch surface upon which one would lay a handgun. In the dark, the pad brilliantly shows the profile of the gun laying atop its surface so that in an emergency, a citizen does not need to be groping around in the dark for a defensive firearm.
The Gun Pad glows like a Light Stick and remains luminous throughout the night.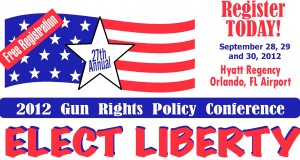 Our sample pad measured roughly 5½ x 8½ inches, and it was everything that Wigutow promised and more. Because it is made from a flexible vinyl, the Gun Pad is just about indestructible under normal use. It will not scratch a gun's surface, and it is impervious to any gun oils that may be on the firearm.
Wigutow has been in business for 23 years. He told TGM that if the Gun Pad starts showing signs of losing its glow, the quick fix is to place it under a bright light or in the sunshine for 15 minutes. That "re-charges" the fluorescent particles. He keeps one on his nightstand.
Initially, the pad started life as a product for campers and trailers to provide a light source at night. But anybody who has ever probed around in the dark for anything, from a screwdriver to a set of car keys, quickly realizes this thing could come in handy for locating a firearm in an emergency.
Wigutow said the material is poured into a mold and allowed to set. Once it solidifies, it can be drilled in the four corners.
While the Gun Pad is rather nondescript and plain-looking, that may be its biggest attribute after its ability to glow all night. At a casual glance, nobody will know what it is.
Wiggy's Inc. also markets a key fob made from the stuff that lights up in the dark. Called the Tube Light mini key chain, this ingenious product could come in handy for the burglary-wise private citizen who may need to throw a spare house key out of a second-story window to allow police officers to let themselves in. It also helps people find their car keys in the dark.
On the company's website, another product called GIDS (for "Glow In the Dark Spots") is available, made from the same material. These spots are available in several sizes and they may be used to show the location of light switches, patio stairs, trail markers or remote controls.
Best part about the Gun Pad is that even if someone deliberately smacks it with a ballpeen hammer, it cannot be broken. There is nothing to break.
For details on this product, visit:  Wiggys.com