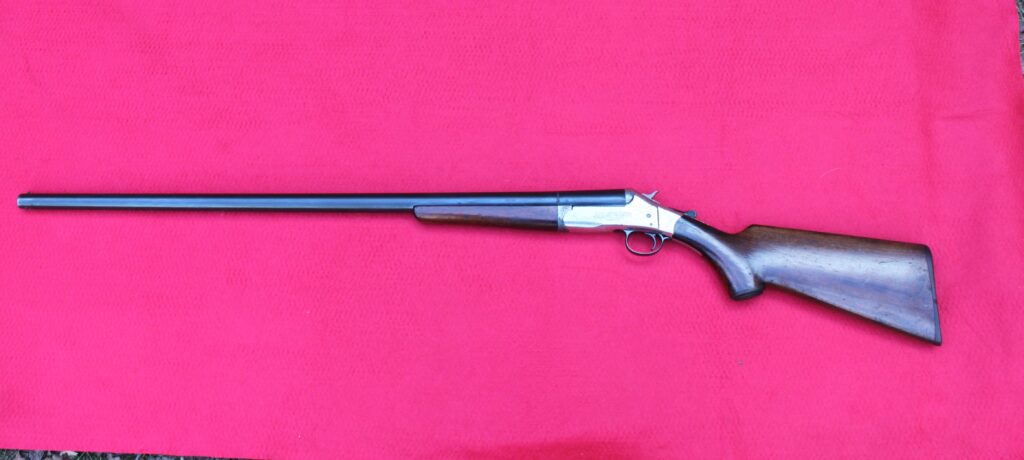 by Jim Dickson | Contributing Editor
Back in the 1890's Belknap Hardware company had shotguns made under its own brand name, Nitro Hunter, with a ram's skull trademark.
This was a common practice at the time and continued in recent years with makes such as the J.C. Higgins brand of Sears Roebuck Inc. Most of these guns were plain farmer's working guns; simple, robust, and reliable. Many were the classic farmer's single barrel shotgun that was the most popular gun in number of sales for many years. They also made doubles including a very fine sidelock.
A double barrel shotgun made like two single barrel hammer shotguns in one receiver with the hammers sticking out the top of the receiver was a unique gun they sold quite a lot of in those days. Many of these guns were assembled in the U.S. from imported Belgium and English parts. They were made for hard use and abuse which ultimately took its toll on the number of the survivors. Rugged straight forward farmer's guns they had a good reputation and following in their day.
In the 1890's Folsom Arms Company made a shipment of Nitro Hunter single-barrel 12-gauge shotguns to Belknap Hardware. One of these had the fore end catch under the barrel cut too short so that the fore end was a bit loose resulting in it being passed over for many years at the Belknap Hardware store in Mississippi it was shipped too.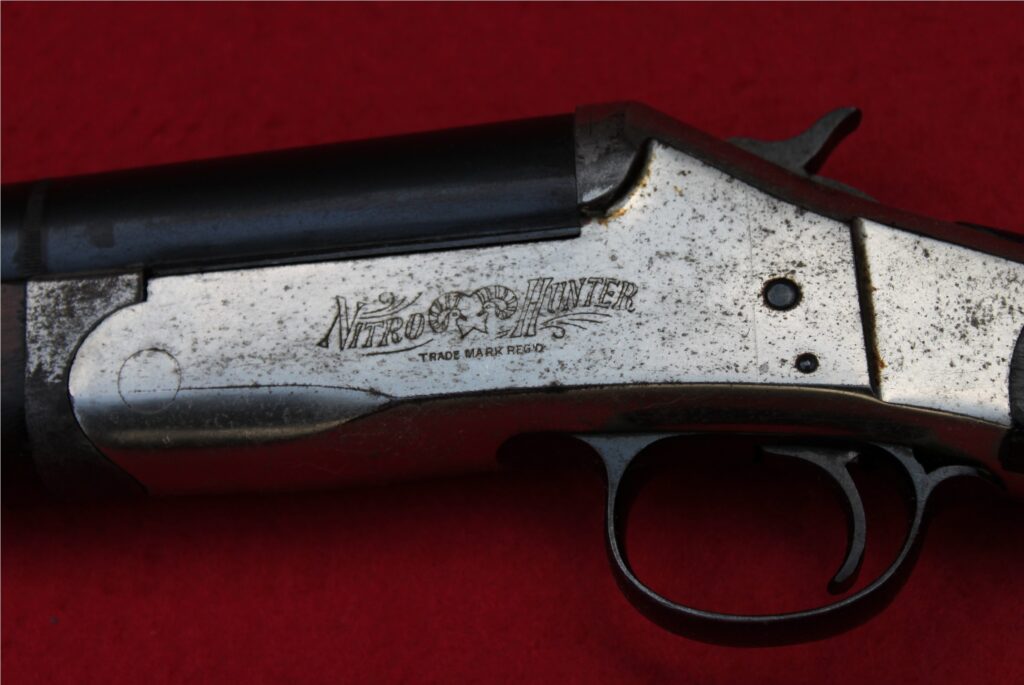 The century turned and my father reached his early teens. Like most kids of that era, long before the child labor laws, he worked to make money and when he had enough for a 12-gauge he struck a deal for the shotgun with the loose fore end. In those far off days nobody batted an eye when a young kid bought a gun. It was expected of them. He added some tape under the fore end to take out some of the looseness and went hunting. Again no one thought anything about a young kid going hunting alone in those days. If he brought back something to eat he was just being a good boy pulling his weight in the family.
His new gun was a beauty with a nickel plated receiver, blued 32-inch full choke barrels, and a 14-inch length of pull on the dark walnut stock. The lines and proportions were simple and elegant.
There was a lot to hunt in the forests and swamps near him. Plenty of birds, squirrels, rabbits, turkey, ducks, geese, etc. There were organized hunts with dogs for coons and possums which were proper social gatherings where a complete cross section of society went out to have a night's fun hunting. This is an old Southern tradition dating back to the days when the big organized hunts of the plantation owners were the social event of the year where business combined with bear hunting and men like Confederate General Wade Hampton killed bears with Bowie knives if their muzzle loaders did not stop a wounded bear's charge.
My father even got a deer with his shotgun. A much bigger accomplishment in those days as deer were much scarcer. His big love was bird shooting though and he soon found that he had a shotgun that would reach further than anyone else's. Despite being a cheap swaged choke it threw incredibly tight patterns at extreme ranges. I have used that gun to kill two doves in a row at distances that paced off to be far outside of any believable shotgun range. I took this matter up with the members of the Best Quality gun trade in the British Isles and they said that sometimes you get a choke that just does that for no discernible reason.
One of the advantages of a single barrel shotgun is its incredible responsiveness. They are among the liveliest factory guns in the hand and this makes for more birds in the pot for supper. He always had an easy time hitting whatever he shot at with this gun. Like most shotguns for the American market it was designed to be aimed for Americans are a nation of riflemen and they always want to aim a shotgun instead of pointing it. It came with a U notch for a rear sight in the receiver to nestle the brass bead front sight in. The stock had the deep drop favored in that period which enabled the head to be held up higher in shooting. If you are going to aim a shotgun instead of point it this is a very effective way to go. This did not stop him from becoming a point shooter though as practice and the rush to hit a flushed bird soon effected that transition just as it had for generations of shooters before him.
Every type of 12-gauge load available was fired through it from the black powder shells still common when this gun was first bought to modern magnums. The extremely light weight of these single barrel shotguns make them a joy to carry afield but it also makes them kick like a mule with magnum loads. It's no accident that the most popular hunting load in those days was one ounce of #6 shot over 3 drams of powder. This is a most pleasant load to shoot and patterns better than heavier loads. That is important on a Southern dove shoot where the number of shots fired in one day may easily exceed that of a British driven grouse shoot. This has always been my favorite load for everything I shoot with birdshot because it performs so well for me. I have shot turkeys at extreme range with this load and it had no trouble going through the feathers and bones to give me consistent clean kills with body shots.
The one thing that will never be fired through it is steel shot. That would iron out the chokes if it did not burst the barrel outright. Steel shot has wrecked new London Best Quality guns by ironing out the chokes, forcing the barrels away from the ribs and springing the water table with the greatly increased recoil steel shot generates in the gun. A sprung water table makes the barrels loose and rattle in the action.
John Dickson and Son, Best Quality gunmakers in Scotland, had to go to Swedish S7 tool steel for the barrels and actions on the guns they made to withstand the shock of steel shot. The use of steel shot has destroyed more shotguns than people can imagine. The inability to use a favorite shotgun with steel shot and the expense of buying another gun made for steel shot caused a lot of men to forego waterfowl hunting. It has been one of the most successful anti-gun and anti-hunting ploys ever made. The steel shot loses velocity fast resulting in many more wounded and crippled birds getting away to die a painful death thereby greatly reducing the population of waterfowl in a way that is hard for the biologists to calculate.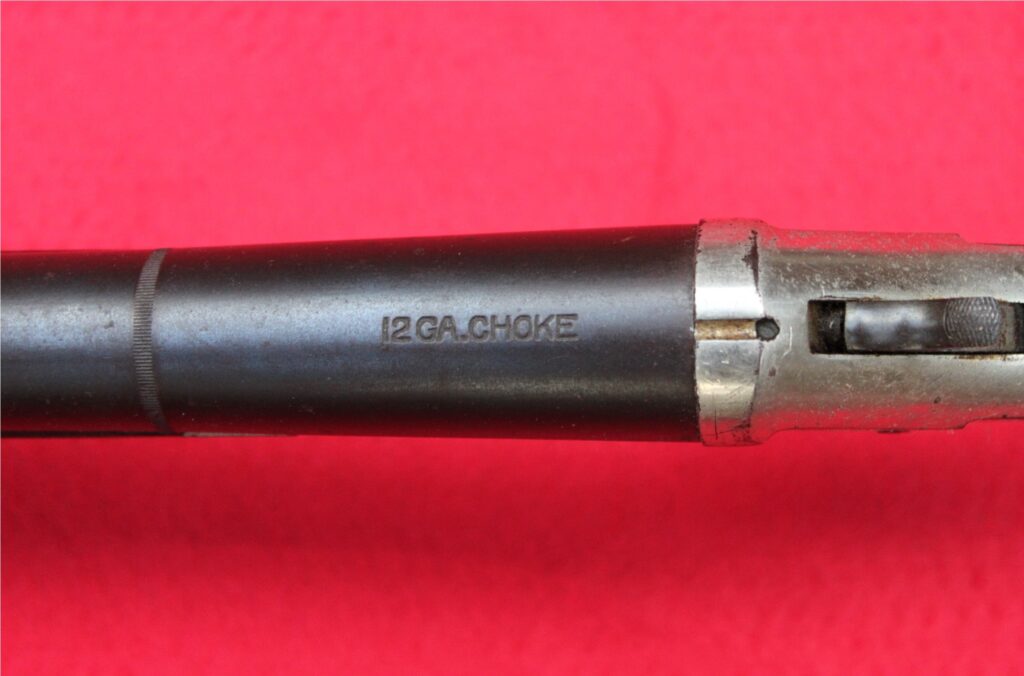 My Father used this gun until the 1960's when an Army buddy of his stationed in Japan told him that he could get him a new Japanese SKB semiautomatic shotgun there for just $100.
In those days you just paid the money and they mailed you the gun. No import problems, no dealers. He wanted me to get one also but I was a confirmed side by side double man. He retired the old single barrel then. Today he is long gone but the old single barrel still sits in the ready rack on my North Georgia farm and is my go to gun for rattlesnakes.
Nothing takes the head off a rattlesnake quite like a 12-gauge shotgun. It sure renders the corpse harmless and that's important as even without a head they often keep writhing and striking. While I hunt with a double that is stocked to fit me, my second choice if I did not have a double would be that old single barrel shotgun because of its exquisite handling qualities for a gun that has just a factory stock. It's over 125 years old but it's still a working gun as well as a family heirloom.