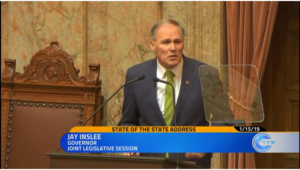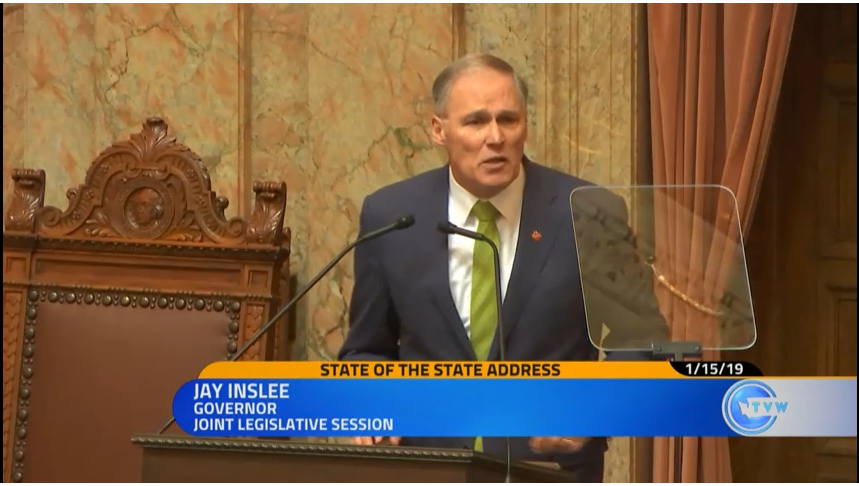 By Dave Workman
Editor-in-Chief
Evergreen State gun rights activists are wavering between frustration and fury in the aftermath of Gov. Jay Inslee's signing of legislation that takes effect immediately, banning the open carry of firearms at or near demonstrations through the state, especially at the state Capitol in Olympia.
Inslee, a Democrat, called Senate Bill 5038 "common sense" legislation, a term that has become part of the gun control vocabulary.
State Sen. Patty Kuderer, the Bellevue Democrat who sponsored the legislation insisted, "This is not a restriction on your right to own a weapon. This is a restriction on where you can carry your weapon."
For gun rights activists, there is not much difference.
State Rep. Jim Walsh, a Grays Harbor Republican, told KING5 News in Seattle, "I refused to vote for it on the floor of the House, because I thought it was so plainly unconstitutional."
When Walsh posted an AmmoLand News story about Inslee's action on Facebook, it got plenty of reaction, uniformly negative. One man wanted county sheriffs to unite and arrest the governor. Others declared the new law unconstitutional, with some noting it infringes on the First as well as the Second amendment.
The legislation takes an "out of sight, out of mind" approach because it does not prevent anyone from carrying concealed at such rallies. It is still legal to carry concealed inside the Capitol and legislative buildings.
Kuderer told KING she is not fearful of legal challenges, and Walsh anticipates lawsuits to be filed.
She also claimed the carrying of firearms at rallies is designed to intimidate people, including state lawmakers.
"We have hearings with hundreds of people showing up and they have AR-15s strapped over their shoulders," Kuderer stated, "They're not there to protect themselves from some threat, they become a threat."
Renee Hopkins, head of the Seattle-based Alliance for Gun Responsibility, a billionaire-backed gun prohibition lobbying group, told KOMO, "It feels really great knowing that as we head back to Olympia in person hopefully next year that hundreds of people that we work with, many of whom are survivors of gun violence themselves, that they won't have to face the kind of intimidation that we've faced over the last number of years by armed people at the capitol."
But a spokesman for the Citizens Committee for the Right to Keep and Bear Arms, fired back, "If somebody doesn't like firearms, they don't have to be in the neighborhood. They don't have to attend a rally to heckle the ralliers. We are talking about a freedom of speech thing."
The spokesman was skeptical whether such a ban might hold up under constitutional examination, "because we're not really talking about the Second Amendment here as we're talking about the First Amendment."
As noted by AmmoLand, a spokesman for the National Rifle Association observed, "The right of self-protection should never be denied whether at home, on the road, or in the public square."
Article 1, Section 24 of Washington State's constitution states, "The right of the individual citizen to bear arms in defense of himself, or the state, shall not be impaired, but nothing in this section shall be construed as authorizing individuals or corporations to organize, maintain or employ an armed body of men."
Whether this ban might be considered an impairment would be determined in court.