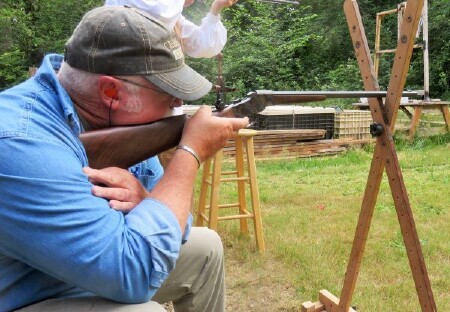 By Mike Nesbitt
Contributing Editor
Here's a report on a very informal shooting match, following some of our black powder habits but done with .22 rifles.
Most of those rifles were single shots shooting the .22 Long Rifle cartridges but we did have one shooter using an old original Winchester Model 1890 which fired the .22 WRF or ".22 Special" cartridge. This was a match more for the fun of it than to actually establish a champion. Even so, our first place shooter was rewarded nicely with the first pick from the prize table.
The guns we used ranged from the Low-wall in .22 by C. Sharps Arms, which I was using, to several old (and perhaps re-lined) Stevens Favorites, a Remington #4 rolling block, and the new copy of the old Hopkins & Allen .22 as made by C. Sharps Arms. Several of the rifles had peep sights mounted on their tangs although open sights were certainly there too.
We did vote on a restriction or two about the guns that could be used in this old style match by asking that our shooters would not use scope-mounted rifles and we'd not allow any auto-loaders. All rifles would be loaded single-shot.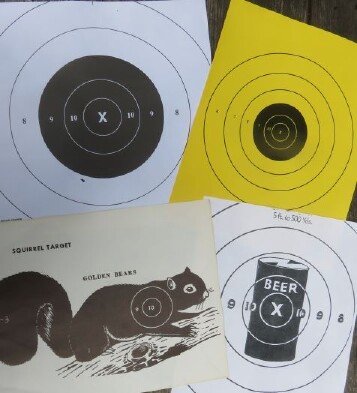 Our targets had some real variety although they were all paper targets instead of gongs or silhouettes. I'll describe these in the order that they are listed in the Match Results but when we posted our targets they were all posted at once and therefore they could be shot in any order that the shooter preferred. At 50 yards, and shot from the sitting position while using cross-sticks, was our "big bullseye."  That, our biggest target, received ten shots.  Next was the 50 yard turkey, a fairly generous target which I don't have a picture of.  That target received five shots from the sitting position followed by another five shots while shooting offhand.  Next came a small bullseye (the one on yellow paper) which was posted at 25 yards for five shots.  The "tin can" was also posted at 25 yards for five shots.  One little rule about the tin can target was that shots had to hit the tin can in order to score. Finally, the 25 yard squirrel for another five shots and all of the 25 yard targets were shot offhanded.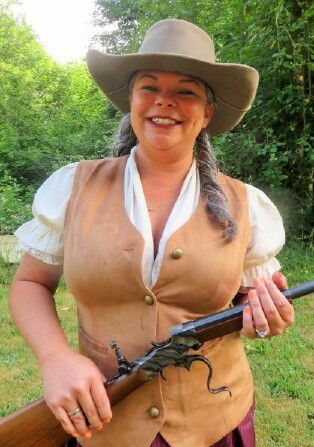 We had ten shooters participating in this small doin's so some of our shooters started at 25 yards while others began to punch paper for score at 50 yards. I started at 50 yards on the big bullseye. My Low-wall was the only rifle on the line that day which was equipped with a set trigger. Maybe that helped me, maybe it didn't. If it did help, it mainly helped me claim some closer misses. I can't really complain, my score on that first target was 93 out of 100.
Allen Cunniff used his Hopkins & Allen .22 and showed us all how it was done. He shot 100-3X on that target, claiming the high score. He also got the highest score on the turkey, getting a score of 87. Allen didn't stop there, he shot a 50-5X on the tin can target. You can see his other scores in the Match Results and he won the match as our only shooter to get a total score that was over 300 points. (350 points were possible.)
Doing almost as well was Curt Lokovsek using an original Remington #4 rolling block and getting a total score of 260-8X. Bob DeLisle took 3rd place using his Stevens Crackshot (one of the newer rifles) and I followed Bob by taking 4th with my total score of 250. Actually, I can brag just a little because I had the high score on the small bullseye target, the yellow one.
One shooter must be pointed out, that was Ashley Ritter and she was our only lady to be shooting with us that day. Ashley used a re-lined and refinished Stevens Favorite of 1915, complete with the Marble's tang sight. She knew what she was doing too and placed 6th out of the line-up of our ten shooters.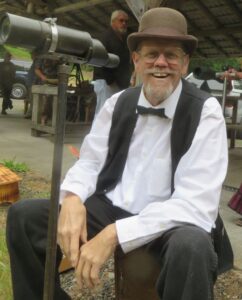 A few words must be said about "Loco Jeff" Ritter, putting this match together was his idea. It was a good idea too. Jeff did rather well on the targets where sitting with cross-sticks was allowed but he passed on all of the offhand targets. Some days it is simply too difficult to hold steady for offhand shooting and it seems to be getting even more difficult each year.
The prizes for our little old style .22 match were a number of small things, from summer sausages to books, gun oil, baseball caps, and even some bolo ties that were donated by the Capitol City Rifle & Pistol Club (near Littlerock, Washington), C. Sharps Arms, and several of the shooters. All shooters received a prize as they stepped to the prize table in order of their placement according to total scores. For my prize I selected a summer sausage which makes my .22 Low-wall a real "meat maker."
Our Old Style .22 Match is best described as simply a lot of fun. It took very little to throw this match together. We started our shooting at 9:30 on a Saturday morning and we were completely done before noon. Lighthearted competition like this is recreational shooting, almost at its best.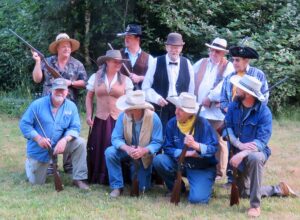 MATCH RESULTS: